General Election December 2019 Diary
Comment | Opinion | Questions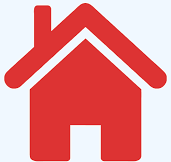 [I wrote this account as a blog, with daily entries in reverse date order, newest at the top. As the event has now passed, I've re-ordered the posts to make an ordinary diary.]

Wednesday 30th October


So, it's an election - almost, as it needs ratification by the House of Lords. Voted on in the House of Commons yesterday, motion carried by 438 to 20.

The big question is: will an election resolve the two-and-a-half-year impasse on Brexit? A general election is an odd and unusual tool for this particular purpose.

I should declare myself. I am a committed European and Remainer, as are many of my friends and neighbours here in Stroud, Gloucestershire. I recognise that we held a referendum in which the majority vote was Leave, and understand the cries of "unde­mocratic". However, we have so much more information today than we did in 2016 about the impact of leaving the EU. For me, this shift in and maturing of aware­ness justifies a second vote.

Will a general election give me the chance of voting for Remain? Should it give me that chance? It is not a single-issue tool.

Reflect for a moment on the fortunes of David Drew, our Labour MP in Stroud. He was first elected in 1997, part of Tony Blair's triumphant result. He achieved a swing of 13.3% against the Conservative incumbent Roger Knapman. In 2010 he suffered the Iraq and WMD backlash. I remember a public meeting in Lansdown Hall where a participant said (or words to this effect), "David, you've been a really good MP and I've always voted for you. But I can't now. I can't vote for Blair." David lost by 1,299 votes to the Conservative Neil Carmichael. Despite the loss, he actually managed to increase the number of votes he won compared to the 2005 election as well as obtaining the smallest losing Labour swing in the whole of England. The Green Party candidate Martin Whiteside collected 1,542 votes, more than David's losing margin.

So here I am today, a traditional Labour Party voter, but a Remainer. Jeremy Corbyn, a life-long Eurosceptic, has agreed to a general election after no-deal is - allegedly - taken off the table, with Boris' deal in place. Do I vote Green, as I have consistently in local elections but never in a general? Does David lose his seat and we have a Conservative MP once more? And help to retain Boris as PM? And end up with some bad Brexit?


Friday 1st November


Jeremy Corbyn launched Labour's campaign yesterday. I tried to blog my immediate reaction, but couldn't nail down quite what I felt.

I was a Corbyn fan at first as he surprised his colleagues by winning the 2015 Labour leadership election. His success in the second contest in 2016, once again with more than 60% of the vote, almost amused me, so unexpected and galling for his adversaries. In his early days as leader, I was pleased with his policy statements. Here was a Labour politician explicitly standing up for the less fortunate, the many not the few. Today, I welcome his latest statements of intent to challenge unscrupulous landlords, immoral employers, the corrupt.

But I have a problem. He just isn't a European. He's wary of losing support in his Leave constituencies. He may truly believe in honouring the democratic principles of the referendum "out" victory. This has severely restricted his ability to challenge the Conservatives during Theresa May's tenure as PM. At times in the last two years he could have driven the proverbial "coach and horses" through the Tories and has failed to so.

One of the disgraces of the Brexit era is how it has robbed the government of the time and inclination to focus on the big issues of the day. I remember attending a local business breakfast with our MP David Drew a couple of years ago; he was there to give us an update on activity in the Westminster bubble. "You won't be surprised", he said, "it's nothing but Brexit." I suppose I should be pleased that Corbyn concentrated on those big issues yesterday rather than Brexit. But I'm not.

The European thing goes deep. A friend recently said to me that Britain may have lost its Empire but has gained Europe. Exactly. And now we want to throw it away and be yet more isolated. I'm fed up of waking up in the morning, turning on the radio and hearing the inevitable topic. I feel sick, a blend of emotions in the pit of the stomach - loss, regret, sadness, anger, fear.

Who got us into this mess? Conventional wisdom would blame David Cameron for calling the referendum in the first place. I'd go further back and finger Ed Miliband for challenging his brother in the 2010 Labour Party leadership contest, then the GMB and Unite unions for backing him with their huge block votes. I suspect the outcomes would have been different with David as leader. He'd been a Foreign Secretary with a strong sense of European union and global empathy. He had the air of a thinking statesman. He might have beaten Cameron. We might have avoided the last three years altogether.

Saturday 2nd November


I started this blog with the intention of alle­viating (for me personally) the grimness of today's UK by getting more involved with the nuts and bolts of the election, rather than wallowing in misery by the radio. It's paying dividends. I've already sought the views of English friends and family resident in Europe and of local Stroud politicians. Listening to and reading the thoughts of people I know really helps.

My brother-in-law Graham Gibbs emailed me a commentary yesterday. It's a good read. He touches on areas I wouldn't have included like the EU viewed from the French countryside. He also has two Lexiteers in his family! The piece is a bit too long to paste here in its entirety, so click on this link to a PDF: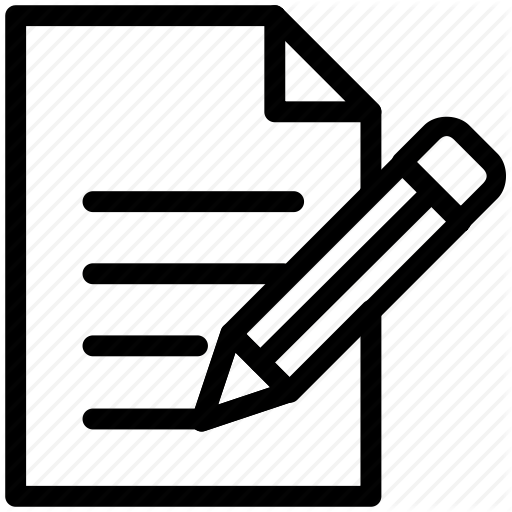 My friend Diana Edwards has lived in Luxembourg for over 30 years. She's sent me a couple of topical Youtube video mash-ups featuring Rees-Mogg and other miscreants. Click on the icon here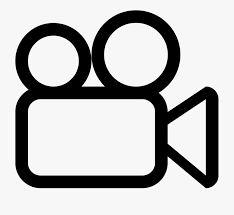 for "The Monster Crash" and here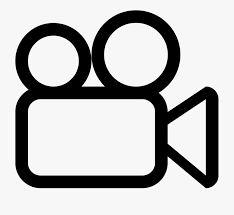 for "The Common Market".

South Africa beat England 32-12 in the Rugby Union World Cup Final this morning. There is no connection between this result and the outcome of the General Election. In these circumstances, to offset the potential gloom of an England loss, I place a bet on an opposition victory. My winnings today have already paid for the fish dinner I'm cooking for friends this evening.

Sunday 3rd November


Chris Taylor arrived in Udine in the Friuli region of north-east Italy in 1975. We went there at the same time to teach English. After two years I moved down the road to the Veneto for a further two years before returning to England in 1979. Chris ... remained ;-) He's sent me an impassioned view on the UK and Brexit from his perspective, an Englishman living in Italy. He says, "Naturally, as someone who has lived abroad for more than forty years, I and all the Brits I know living in Italy and elsewhere in Europe were horrified at the result of the referendum. This feeling has not dulled with time." The PDF of the full text is here: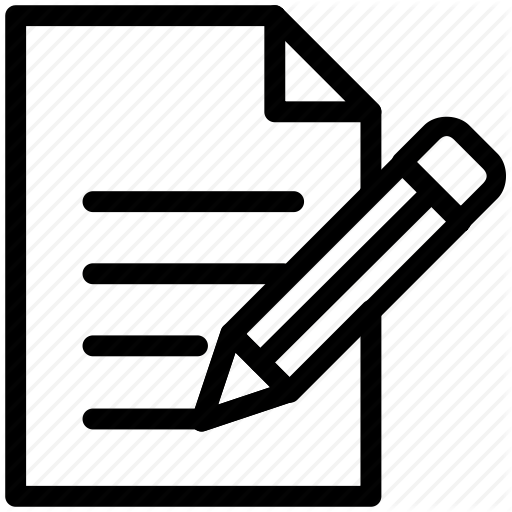 Alison Matthews has sent an email asking me to banish any notion of voting Green. It's strong stuff. "OF COURSE you shouldn't vote Green this time. If you are a committed Remainer and European, your number one priority MUST be to keep the Tories out. If Boris Johnson wins a majority we are all [deleted expletive]. Including the planet. How long before he relaxes his timely electoral 'pause' on fracking?" Full email here: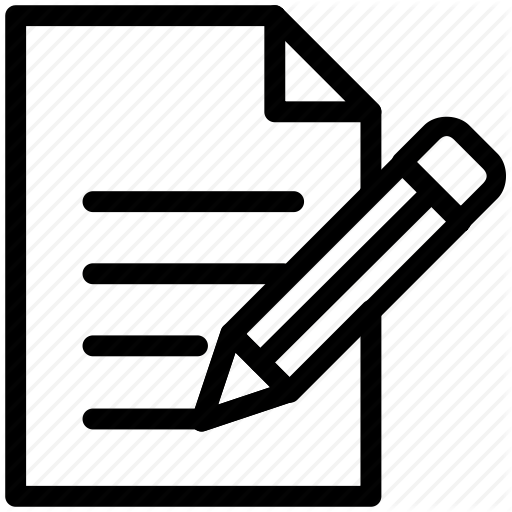 Received loud and clear, Ali ;-) I'm meeting our Labour MP David Drew tomorrow; I'm sure he will agree!

Behind the scenes, of course, there have been the Operation Yellowhammer contingencies for food, medicine and banking, the Operation Fennel traffic management in Kent. A while back my friend Fraser sent this SMS: "Charlie, do you know of any other nation that is disaster planning for something it chose to do?" Indeed. Here's a Steve Bell cartoon to remind us: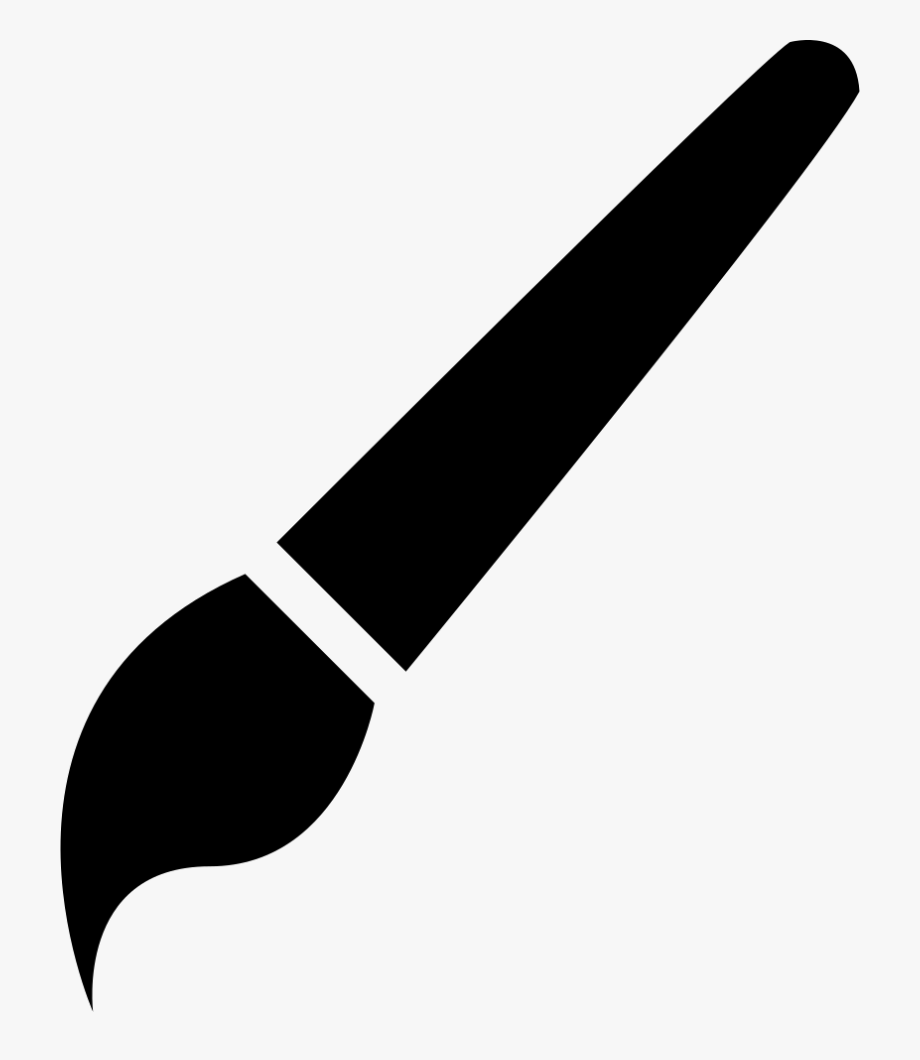 BREAKING NEWS: Nigel Farage has said he will not be standing as a candi­date in the general election. Jeremy Corbyn com­mented, "It's a bit weird to lead a political party that is apparently contesting all or most of the seats and not offering himself for election." Our politics, eh? You couldn't make it up.

Monday 4th November


I went to meet David Drew at Stroud Labour Party HQ at lunchtime. Sadly he'd had to postpone our meeting. Appeased by an apologetic cup of tea, I chatted with the office staff.

They are adamant that Labour is the only route to Remain. If the Conservatives win an outright majority we will get some sort of Boris deal. If Labour achieve the same we will definitely get a second vote, with Remain and a "sensible" deal on the ballot paper. You can read more on the Labour website
"A Labour government will immed­iately legis­late for a refer­endum once elected." No other party will be able to offer this from a position of power. It is unlikely that any comfortable Remain-sup­porting alliance could be formed in the event of a mino­rity govern­ment or hung parliament.

Parliament will be dissolved just after midnight at the beginning of Wednesday (so-called Day 0) and campaign­ing begins in earnest. Here is the election timetable from the House of Commons Library: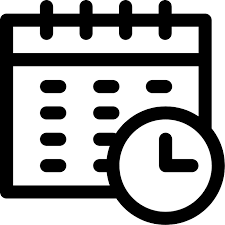 Stroud act­ivists have already been busy in the High Street today:

And here's David getting to work on the Greens:


Tuesday 5th November


With Day 0 upon us tomorrow (the process allows a 25-working-day period before Election Day on 12th December) it's time to move from the "phoney war" into predictions and polls.

We should have a stab at the outset. Anybody want to have a go? Who will win and why? Send me an email and I'll post your numbers on the blog.

It's worth stating the distri­bution of Com­mons seats this last day of the to-be-dis­solved parlia­ment. Here's a table (Source: parliament.uk):


| | |
| --- | --- |
| Party | Seats |
| Conservative | 298 |
| Labour | 243 |
| Scottish National Party | 35 |
| Independent | 25 |
| Liberal Democrat | 19 |
| Democratic Unionist Party | 10 |
| Sinn Féin | 7 |
| The Independent Group for Change | 5 |
| Plaid Cymru | 4 |
| Green Party | 1 |
| Speaker | 1 |
| Vacant | 2 |
| Total number of seats | 650 |

I missed and only just realised the resonance of today's date, distracted by it being my daughter Ellie's birthday. We could engage this process in the hope that parlia­ment will be refreshed, that we can look forward to years as productive as the last three have been wasteful. Or not. Catesby and Fawkes had other plans this night in 1605.


Wednesday 6th November


The pollsters have already been at work. The BBC poll tracker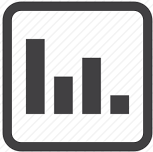 had these numbers for % party support yesterday:


| | |
| --- | --- |
| Party | % |
| Conservative | 38 |
| Labour | 26 |
| Liberal Democrat | 17 |
| Brexit Party | 10 |
| Scottish National Party | 4 |
| Green Party | 4 |
| Plaid Cymru | 1 |
| UKIP | 1 |
| TIGfC | 0 |

The Guardian equivalent has this trendline chart today: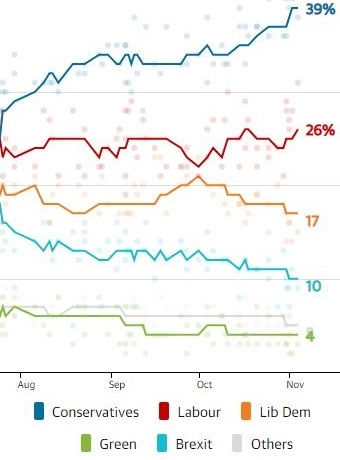 As a European, I'm shocked at the Conser­vative growth. The chart range is that of Boris' tenure as PM.


Thursday 7th November


I saw David Drew yesterday at the Stroud Labour offices for our re-arranged appointment. We sat in the little front office, looking out into Lansdown. I have to say that everybody there has been very responsive; I received the original invitation to see David only half-a-day after sending the email request.

David asked how I wanted to handle the meeting, then immediately took charge and suggested I interview him and record the conversation. What else did I think I was going to do? Much fumbling to find the recorder app on my 'phone, proper debutant interviewer stuff. We talked for just over ten minutes and the transcript (with filler fluff removed) is here: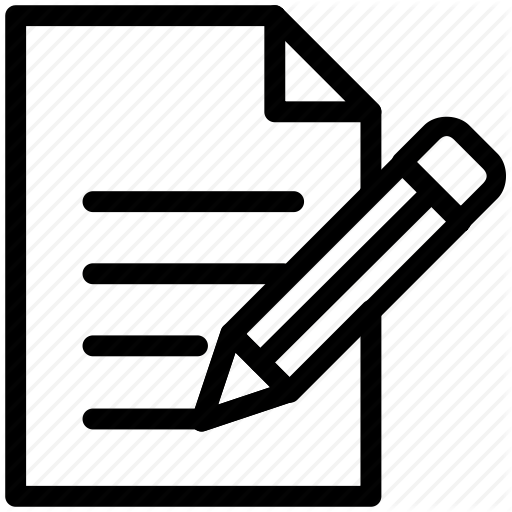 We didn't break any dramatic new ground, but there was confirmation of issues previously covered in this blog. David re-iterated the now familiar refrain: "If you want to beat the Tories, you have to vote for me." Well, it has substance in the number of votes cast in the Stroud 2017 election: Labour 29,994; Conservative 29,307; Liberal Democrat 2,053; Green Party 1,423; UKIP 1,039. But I worry about Siobhan Baillie.

My friend Richard Edwards, resident in Luxembourg with his wife Diana for more than 30 years, has responded to my call for opinion. He has temporarily declined to comment; "I don't really think I can make any useful contribution at the moment but if anything sparks among my mangled and decaying cortical connections I will send by express post." He's serious about that last word. For forty-five years he has communicated by postcard, the reverse side crammed with large round handwriting, and annotated photocopy. He doesn't do computers; Diana will usually interpret. Anyway, I'm pretty sure what he thinks. I can almost hear him declaiming on the condition of the UK, all that is absurd and just plain wrong. I have attached his letter for the benefit of mutual friends: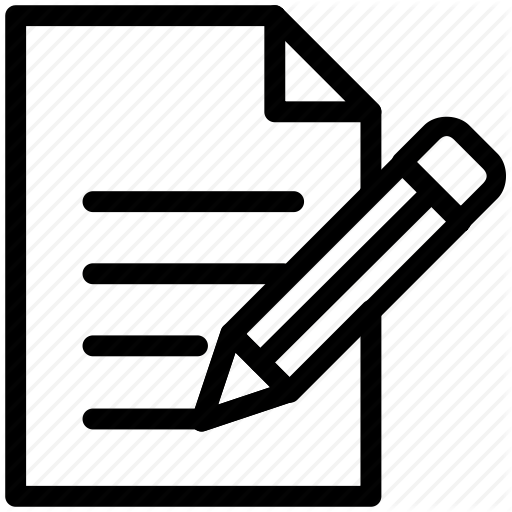 Clare Bassett emailed that her social worker daughter-in-law Rosie said one of her young clients thought we should just let "this Brexit guy" into the country.

Friday 8th November


BREAKING NEWS: "Lib Dems stand aside in Stroud as part of Unite to Remain pact with Greens", reported the Stroud News & Journal yesterday. Molly Scott Cato (Green Party candidate) said, "I am delighted that the Lib Dems have provided this enormous boost to the Remain campaign."

The Liberal Democrats nationally have the more focussed Remain position with their headline: "Stop Brexit - Build a brighter future." Locally, the Green Party has a stronger presence. Molly Scott Cato has an enviable reputation in the UK and Europe; she is MEP for the South-West. Stroud District Council has 9 Green councillors and 2 Liberal Democrat.

"Enormous boost"? Combining the two parties from 2017 results gives the pact 3,476 votes. No wonder that David Drew, with 29,994, said, "As the candidate who can actually deliver real action on the climate crisis with our Green Industrial Revolution plan, as well as give people the final say on Brexit with a referendum, I'll be pleased to welcome former Lib Dem and Green supporters." Cheeky ;-)

Would you like to hear more from the Greens in Stroud? There's a Coffee House Discussion at Star Anise Cafe (1 Gloucester Street Stroud GL5 1QG) this evening starting at 7pm. The local party campaign launch is next Tuesday 12 November 11am at Stroud Brewery (Kingfisher Business Park London Road Thrupp Stroud GL5 2BY) with Caroline Lucas and Molly Scott Cato.

Saturday 9th November


After coverage of other parties, it's time to include the Tories. The Stroud Conservative candidate is Siobhan Baillie, new to both politics in general and the local constituency.

Born and raised in Yorkshire, she was state school educated. She moved down south aged 17 while applying for a job as a legal secretary, then worked her way up to qualify as a solicitor. Employed full time as a legal assistant, she studied in the evenings and attended law school at the weekends. She is Head of Policy and Communications for the charity OnePlusOne, dedicated to strengthening families and relationships.

I noticed that David Drew didn't mention her name during our interview, unlike those of Molly Scott Cato and George Baker, the latter now having withdrawn under the Unite-to-Remain pact. I suspect both David and Siobhan are keen not to descend into a personal brawl; in the interview David expressed a strong desire for values and decency in politics.

However, theirs is the key contest if you believe all that has been written in this blog so far, and people will make some decisions based on the personal. David is an experienced veteran with a 20-year record of commitment to Stroud, a good man who works hard for this area. Siobhan is a bright, attractive young woman with an infectious smile, aiming to be Stroud's first woman MP. There's a hint of "breath of fresh air" versus "safe pair of hands".

We know the alleged personal traits at a national level. How will these influence the local constituency? Do voters think Boris is a buffoon and a liar, or a dynamic up-and-at-'em Get-Brexit-Done game-changer? Do they think Jeremy is dangerous and not fit to be PM, or a caring man of principle unafraid of standing up for the "many"?

Will it be a Brexit-led election here? Interestingly, it gets pride-of-place in neither Siobhan's nor David's campaign literature, so maybe they think not. I reckon Siobhan is leaving it up to Boris. David should gain from Stroud-as-Remain-Town (and maybe Siobhan thinks she won't), with a vote of 54.6% Remain to 45.4% Leave in the referendum. The Tories don't offer a People's Vote. Labour does, albeit after another period of negotiation with the EU.

I have one significant problem in trying to assess the outcome. I'm a middle-class Guardian-reading Remainer. I know hardly any Tories. No idea what they're thinking. I have one dear conservative friend, but we give politics a wide berth. In an attempt to rectify this ignorance, I read the Daily Mail in the Waitrose cafe over my double-espresso.

It's difficult to call. I'm of course hoping that the Remain factor tips the balance.

Sunday 10th November


My friend Dave Lovegrove has drawn my attention to an article by Paul McNamee in The Big Issue titled "Learning to see beyond Brexit with my canine companion." Paul talks to his dog Toastie when wrestling with ... well, big issues.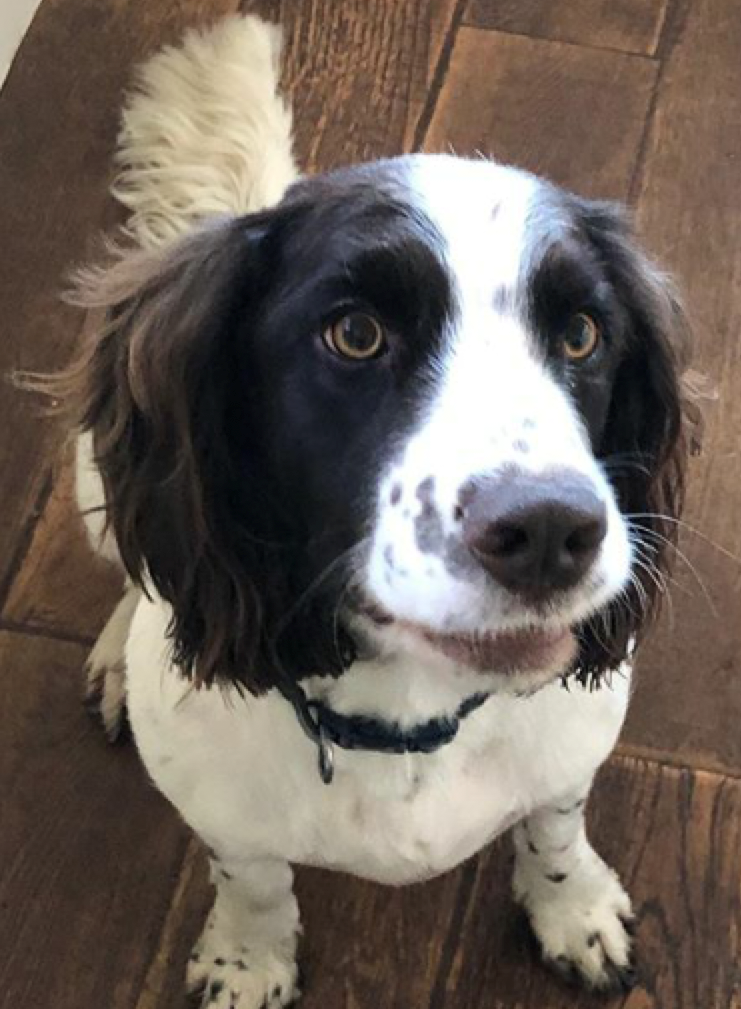 He discusses the value of the election and its relationship with Brexit, echoing questions posed in last Thursday's blog; as David Drew said to me, "The NHS, our education system, care services, transport - all these things are what a General Election is about. It's not just about Brexit."



"The issue, I said to him, as he ran into the stream, is whether this will make a damn bit of difference. The election is a Brexit election. And the Brexit Party are going to split votes, even though they don't seem to back Brexit, as it stands. They're a single-issue pressure group scared that the single issue will be sorted. And Labour are struggling to unite behind a common idea. The Tories, under Boris Johnson, are making it up as they go along. The SNP have Indyref in their crosshairs, the Lib Dems are policy-light, and while the Greens make sense, especially around the climate issues we all need to address, they are small. So, I said as Toastie chewed his ball, is this going to fix anything? The systemic issues around inequality and poverty are not being addressed here. In-work poverty grows. There has been a kids' picture book written about a trip to a foodbank! What is wrong with us all?"


The full text PDF of the article is here: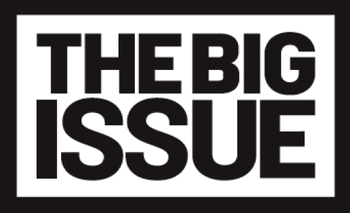 I agree with both Paul and David that we need to get back to the really important matters that affect people. But I will be devastated if I wake up on December 13th and discover that Europe is a goner. I want Remain to triumph first and then get on with the proper business of government, much of which will be assisted by membership of the EU. Will the UK be as successful in confronting climate change on its own as it would with close European partners?


Monday 11th November


Farage u-turns and the Brexit Party will now not stand in 317 seats won by the Tories in 2017. Daily Mail readers are clamouring for him to move on altogether. "If Boris fails, there is no Brexit." Sound familiar? David Drew: "If you want to beat the Tories, you have to vote for me."

So now we have the Leave Alliance about to swell the Tory numbers. By how many? In the European elections in the UK, the Brexit Party had 39.7% of the vote, 5,248,533 people. Where are they all going in this election in Farage's uncontested seats? To the Tories, that's the plan? Different in the Labour seats that he still wants to target. Will they vote for the Brexit party? Or if they are Labour Leavers ... for Labour? Hold on, Labour is the Remain party now. Hmm ... time to stop, this is getting too weird.

The gap between Conservative and Labour as shown by the BBC polls tracker (I know, are we to trust them?) has shrunk by 2% from 13% on 6th November to 11% today. In the right direction but nowhere near enough. Remain needs a big improvement from somewhere.

It's the launch of the Stroud Green Party campaign tomorrow at Stroud Brewery, just days after the local LibDems withdrew from the fray. The Greens could now step down themselves and get behind Labour? Couldn't they? It's just one step further, and only short term in the interests of Remain. An opportunity to organise something in a brewery other than ...

As said before, the combined results of the Green Party and the Liberal Democrats in 2017 would render 3,476 Remain votes. A great benefit to Labour in Stroud. David Drew won by only 687 in 2017.

But a doctrinal and emotional leap too far?

Tuesday 12th November


Sarah and I went to the Stroud Green Party campaign launch at 11am this morning at the Stroud Brewery. A very good turnout of 100-150 people in an upstairs bar. 15-20 rows of wooden benches and chairs with a raised platform at the front. On the podium were: Molly Scott Cato (candidate and Green MEP), Caroline Lucas (Green MP and former chair of the Green Party), Martin Whiteside (Stroud District Councillor, co-coordinator of the campaign and former General Election candidate) and Greg Pilley (Managing Director of Stroud Brewery). Local Green legend and serial mayor John Marjoram was in the second row of the audience.

Martin introduced the event and the others on stage.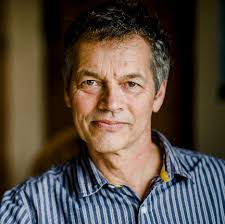 He described the difficulties of being elected a Green politician. He first "scraped in" as a Green councillor for Thrupp ward by 41 votes. He's been there for 16 years. At his last election he had 69.6% of the vote. The same trajectory is true of John Marjoram. First elected as councillor in 1986 (snigger from Martin), last time out in Trinity ward he gained 61.1% of the vote. Caroline Lucas' winning majorities at Brighton Pavilion have grown remarkably: 1252 in 2010, 7967 in 2015 and 14689 in 2017 on 52.3% of the vote. Martin's point was this. It's hard for a Green to get on the first rung of the electoral ladder. There is understandable wariness among the electors about supporting a party that is not traditional main stream. When they get to know you, they will return you at subsequent elections with growing confidence. The moral of his story? Vote for Molly now. You will be rewarded.

Greg talked with considerable pride about the brewery, its organic and green credentials.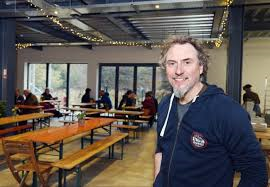 Martin, in his opening remarks, said how it was so much more than a producer of very good beer. It's a centre for the community with many other activities going on. Bars on two levels in the new purpose-built building. You can browse the website here: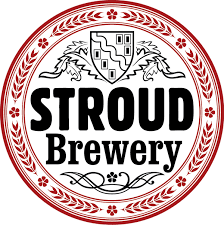 Molly rose to generous applause.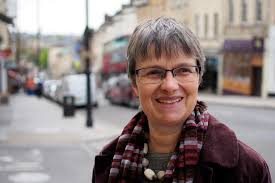 To set the scene, she emphasised the scientists' deadline of 11 years to reverse climate change. The Green Party has been planning the Green New Deal for three decades, unlike the more recently-taken positions of the other parties. "Accept no imitations". "Beware cosmetic green credentials". She thanked the Liberal Democrat George James for standing aside, an example of "grown-up co-operative politics". She finished by stressing the important of this election: "Vote once, change history and save the world".

It fell to Caroline to deliver the rallying cry, which she did without a note.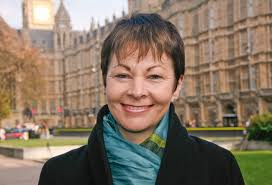 She had (at least) three good lines. "To get green politics you need to elect green politicians." "Stroud deserves the best and Molly is the best." "If not now, when? And if not here, where?"

Thursday 14th November


There are exactly 4 weeks to polling day. It seems quiet. The main policy positioning has been done, via website if not manifesto. Alliances have been formed on both Remain and Leave sides.

So, what's going to happen in the next 28 days? It feels like a long time. A slow release of policy detail? TV debates. I worry that there is a lot of room left for mud-slinging. Of course, the party faithful will be on the street door-to-door canvassing. Much less comfortable than during a May election. It was snowing here this morning at 6am, now just persistent rain. How big will the December effect be? How many will be too cold or bored to vote?

I see migration has shown up today. It's not been out in front as a key topic for a while. Priti Patel has said that the Conservatives will reduce "immigration overall". However, their official policy is not yet set out. Nor is Labour's. This lack of manifesto substance is odd. Is it because of the "surprise" of the election? Lawyers haven't had time to sign off the wording? Perhaps a lengthy print manifesto is a thing of the past, now replaced by more flexible and cheaper online bulletins.

Friday 15th November


Labour promises free full-fibre broadband to every home and business by 2030. The party would nationalise part of BT to deliver the policy and introduce a tax on tech giants to help pay for it. High-speed broadband becomes a universal public service.

Boris says it's "a crackpot scheme". Nicky Morgan (Secretary of State for Digital, Culture, Media and Sport) calls it a "fantasy plan [which will] cost hard-working taxpayers tens of billions." The Daily Mail headline roars, "Labour's 'communist' broadband takeover sends shares plunging as John McDonnell says parts of Sky, Virgin and TalkTalk could be seized AS WELL as a huge chunk of BT - and experts warn taxpayers could take £100 BILLION hit for socialist fantasy". Caller Matt from Lincolnshire on Jeremy Vine: "[The Labour Party] will bankrupt the country. You may as well go the whole way and nationalise Marks and Spencer and give everybody a nice pair of cotton underpants."

It's a classic Corbyn pledge. Bold. Easing pain in the wallets of "the many". Supporting ordinary businesses. "Robin Hood" funding from those who have made a killing through the internet. Guaranteed to raise hackles down at the Conservative Club. Moderate Labourites fear they will become unelectable.

Maybe this one is even better. The Daily Mail last Tuesday: "Corbyn's war on motorists: Labour plotting taxes to force TWO THIRDS of cars off roads". Again, very bold, probably the kind of action needed to beat the climate emergency deadline. And met by a howl of rage from Middle England.

Saturday 16th November


Back to the pollsters. According to the BBC poll tracker (poll-of-polls) on 14th November, the Conservatives still have a 10-point lead over Labour.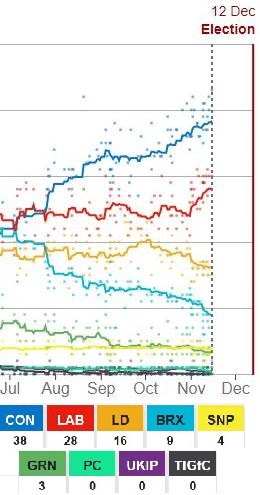 Labour's trajectory has improved, but it's still worrying. YouGov on its own has an even wider gap of 14 points with the Tories on 42% and Labour 28%. Since Boris became PM, when the Conservatives, Labour and the Brexit Party were about level, he's gained around 16% (in the BBC poll tracker). Ouch. Look at tonight's Betway odds for an overall majority: Conservative 1/2, Labour 25/1, Liberal Democrat 100/1. More ouch.

Word from the streets. My Bristol friend Roger Holmes writes that he has been "canvassing in Kingswood, a Conservative marginal. A lot of Labour, don't knows, reluctant Tories. But a lot of people can't stick Corbyn, so really difficult to call. We had a shouter tonight: 'Get off my property!' That is very unusual. People are surprisingly decent even when they disagree with you."

Sunday 17th November


Mail Online (I know, I know) today: "This week's Deltapoll survey for The Mail on Sunday gives the Conservatives a 15-point lead, up from 12 points last week, with the governing party on 45 per cent and Labour on 30 ... The poll suggests that his clear pro-Brexit policy - unlike Mr Corbyn's contortions on the issue - is winning him support in Leave-backing areas."

As ever, take the numbers and the source with a pinch of salt, but I see some truth in the above. Boris really has gained some traction, and for identifiable reasons.

The Brexit deal is "oven-ready", agreed by the EU and Parliament. Contrast that with Jeremy's continued lack of conclusion. There is logic and merit in Corbyn's proposal, the offer of re-negotiation and another referendum. Even if it takes some time, it's right to reconsider the make-up of a Brexit deal with the help of three years' more understanding. It's right to ratify that by another people's vote. Hmmm. Tell that to the 52%, to the Brexiteers who saw the victory of Leave in 2016, who are now exhausted and frustrated by the protracted failures of (the last) Parliament. "Get Brexit Done" is very clear and simple. It smacks of action not debate.

Much as I don't like to say it, I suspect the personality difference is having an effect in the growth of Boris' % support. Some say liar and buffoon, but others see dynamism, humour and fun. Jeremy is pretty serious. Who would many choose to join for a tasty dinner out, a few glasses of red and a bit of a laugh?

Yes, I have a sinking feeling that things are going the wrong way for the Remain camp. The question is: how to reverse that direction? If you have the answer, please write.

Monday 18th November


My friend Lucia Beltrame from Talmassons in the Friuli region of north-east Italy has sent this dialogue:


| | |
| --- | --- |
| UK: | We want a unicorn. |
| EU: | Unicorns do not exist. You can have a pony instead. |
| UK: | We vote against your pony. |
| EU: | We have already discussed this in detail. It's a pony or nothing. |
| UK: | We vote against your pony. |
| EU: | Then you get nothing. |
| UK: | We vote against your nothing. |
| EU: | You really don't get it, do you? |
| UK: | We need more time to think about it. |
| EU: | About a pony or about nothing? |
| UK: | We want a unicorn. |

Tuesday 19th November


My friend Dave Lovegrove has responded to the discussion here with a piece on the vote-tactical or vote-with-heart debate:



Caroline Lucas says, "If not now, when?"

It's a good question. The conventional wisdom is that in a marginal seat you should vote tactically. But to do that accepts and perpetuates the first-past-the-post, main party either/or binary system that we simply must not allow to continue. Some would say not to vote tactically and to vote with your heart and conscience, in my case for the Green Party, will also perpetuate the binary system as it will be a wasted vote, of no consequence except depriving the next best option, in my case Labour, of a majority and therefore a seat for good old David Drew.

Nationally the Green Party is running at about 3% in the polls. Three per cent of the 650 seats in Parliament equals 19 seats. Nineteen Green MPs! That would be amazing. It could even hold the balance of power between the big two parties.

Vote Green in Stroud and the Tory could win. Yawn. Unfortunate, even disastrous, but it could be true. Well, what if it is? At least the Green vote will have increased, the local Green Party will get a boost and most importantly the climate crisis agenda will be furthered. A Tory Stroud will not last long, will it?

And what of Brexit in a vote Green scenario? Much as I liked Vince Cable's Bollocks to Brexit manifesto last time, I am increasingly weary, as I suspect are many of us, of the whole damn thing - a Tory in-party schism cance­rously mutated by the refe­rendum into a national crisis. Well, we shouldn't join the game or, since we already have, we should stop now, chuck in our cards and let what happens happen. There is a point of view which runs along the lines that: the leavers must have their way, after all they won the referendum; we will leave the EU; it will be a complete disaster; there will be a massive political, economic and environmental backlash; collaterally, Scotland, and possibly Northern Ireland and Wales, will leave the Union and the UK will no longer exist; finally, after a hopefully brief period of very uncomfortable turbulence, mayhem, discontinuity and recrimination, England will re-join the EU. Well, it could happen that way. It could happen that way wha­tever we vote.

So, maybe forget about seeking to avoid all the nearly unthinkable potentialities and voting tactically?

When is now, Caroline. I will vote for the planet.


I don't agree with Dave. The Green spirit, yes, the practical outcome, no. Three percent in the polls doesn't give you 19 Green MPs. I can't "let what happens happen", all that Leave and break-up of the Union stuff.

Wednesday 20th November


Last night ITV ran the first national election debates and interviews. At 9pm Julie Etchingham refereed the Johnson-Corbyn head-to-head. At 10pm Nina Hossain interviewed Jo Swinson, Nicola Sturgeon, Nigel Farage and Sian Berry.

Boris was less tousled than usual, a more muted but still buoyant PM. Jeremy was typically dry. Has nobody thought to fix his specs? They were crooked most of the time. Was the right-hand lens grubby? It was difficult to see his eyes, making him look rather shifty. OK, personal digs over. But these things matter to an electorate. They're "hygiene" factors. Not paying attention to them can get you into trouble. Remember Nixon's five-o'clock shadow?

If Boris is to believed, this really is a single-issue election. Brexit was attached to almost every answer he gave. Improve the NHS? Only if we "Get Brexit Done". Strengthen our economy? Conditional on "Get[ting] Brexit Done". It was a transparent ploy. How would the viewers have taken it? Amused? Reminded? Convinced? Infuriated? Angry? Julie Etchingham could do nothing to control him.

He worried like a dog at one other matter. Maybe half-a-dozen times he told us that Jeremy Corbyn will not say if he is planning to campaign for the yet-to-be-hatched "more sensible" Leave deal or for Remain. I don't understand this complaint. Jeremy's aim has always been to implement the will of the people. It seems right for him not to interfere in the new referendum, to rise above it. Pick other people to lead the campaigns. Jeremy can then lead implementation with a clear conscience. Boris just calls it "dithering and delay".

The 10pm interviews were much brighter. Jo Swinson was adamant in condemning both Corbyn and Johnson as unfit to be PM. Harsh, but is there something in it? The head-to-head had a dispiriting feel of two old-stagers scrapping in time-honoured fashion, rarely giving a straight answer. Jo and Sian were fresh and energetic. Even Farage was cogent, although there's always a hint of something unpleasant behind the scenes.

Can any of them play a part in the next government? The polls say Boris is heading for an overall majority, in which case the answer is no. Should the parliament be hung, there are deals to be done. Nicola Sturgeon said she could work with Labour in "an informal way". However, her main priority is independence - and that means Jeremy agreeing to another Scottish referendum.

I don't think last night took us much further forward. All still up for grabs.

Thursday 21st November


Here's a poem from my sister's friend Jill Boucher.



THE DISHONOURABLE MEMBER
FOR UXBRIDGE AND SOUTH RUISLIP

Who is this archetypal Anglo-Saxon
Blue-eyed and peachy-skinned, topped by a flaxen
Residue of hair? Six foot and fleshy,
Flushed with ambition but with something fishy
About the shifty eyes, the well-oiled tongue
Honeyed by privilege, a life among
The moneyed classes, the unthinking 'haves'
To whom the rest of us are 'yobs' and 'chavs'.

A Mummy's boy for sure, whose right to take
The creamiest bun, the largest slice of cake
Was never questioned. An engaging prat
Stuck on a zip wire in a silly hat,
Recycling jokes in after dinner speeches
Fathering children, with unbridled breaches
Of parliamentary etiquette, his smile
Masking a glint of Machiavellian guile.

Master of half-truths and outrageous lies,
First-class degree in telling porky pies
Fed to the gullible on his behalf
In columns of the Daily Torygraph
And on the sides of double-decker buses;
Unable to imagine what the fuss is
About his racist homophobic sexist
Vituperations; and what's more, a Brexist

Not by conviction, but by calculation
Of benefits to Boris, not the nation.
This blue-eyed bounder, this hubristic rat
Jumps at the chance to don another hat
Boasting that there's no mountain he can't climb
With due duplicity and given time,
Moves into Downing Street as if of right
Waving to Europe as it sinks from sight.



© Jill Boucher 2019, poem to appear next month in Snakeskin Poetry Webzine Number 26.

Friday 22nd November


Just over a week ago I was bemoaning the lack of a proper, thumping manifesto. I wondered if such a document was a thing of the past, replaced by more agile, targeted, issue-specific online delivery.

Not anymore. I've now been able to download - so at least getting hold of them uses the technology - four PDFs: Labour, Liberal Democrat, Green and Plaid Cymru.


Party
Motto
pp
Link
Labour
A time for real change
For the many not the few
107
Liberal Democrat
Stop Brexit
Build a brighter future
100
Green
If not now, when?
92
Plaid Cymru
Wales, it's us
45

Nigel Farage has decided against publishing a traditional document: "The old mainstream parties have made 'manifesto' a dirty word. Everybody knows that a manifesto is little more than a set of vague promises that its authors have no intention of keeping. By contrast, our Contract with the People is a targeted set of deliverable pledges. We are not seeking election as a government. We are seeking to deliver the Brexit that we were promised three and a half years ago." You can see the Contract here: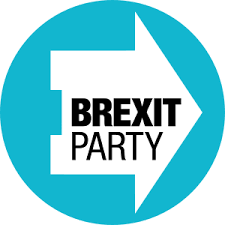 What about the Conservatives? Plenty of huffing and puffing, but no document.

Saturday 23rd November


Jeremy Corbyn has said he'll remain neutral in the debate over Brexit if Labour win. Great. He has always said that he wants to honour the will of the people. Now he can. Let others lead the campaigns for either view, then he can implement the result with a clear conscience. Boris can stop banging on about it as he did in the first TV head-to-head.

Let's have a look at the manifestos (see yesterday for links to the PDFs).

In the foreward to the Labour manifesto, Jeremy Corbyn writes:



"This election will shape our country for a generation. It is your opportunity to transform our country, so that it works not just for a few, but for all of us. It is a chance to deliver the real change Britain needs. This manifesto sets out how a Labour government will do that.

"Some people say this is the Brexit election. But it's also the climate election, the investment election, the NHS election, the living standards election, the education election, the poverty election, the fair taxes election. Above all, it's the change election.

"It's time to take on the vested interests holding people back. The last decade has seen a wealth grab by a privileged few, supported by the Conservatives, at the expense of the majority. The big polluters, financial speculators and corporate tax-dodgers have had a free ride for too long."


The five main sections are:
A Green Industrial Revolution
Rebuild Our Public Services
Tackle Poverty and Inequality
The Final Say on Brexit
A New Internationalism
What's not to like? They're all good things, aren't they? Gainsayers might point to what's missing. How do we pay for it? The Daily Mail will cry foul with "Bankrupt Britain" and "communist agenda". Not enough about making money and encouraging wealth creators, too much on spending it. Why do we need a "final say" on Brexit? We've already voted to Leave and Boris has a deal.

Jo Swinson writes at the top of the Liberal Democrats' manifesto:



"For more than three and a half years, our country's future has been on pause as the Brexit debate has raged on. This election gives us the opportunity to transform our country and create a brighter future. The Liberal Democrats have an ambitious vision for who we can be - a society where every child and young person is nurtured to become whoever they want to be, where if you play your part in society, you can live a happy and fulfilling life, and where we do everything in our power to save our planet for future generations.

"Voters are being told that the only choice is between the Conservatives and Labour. But when I look at Boris Johnson and Jeremy Corbyn, I know that I could do a better job as Prime Minister than either of them. Our country deserves better than what is on offer from the two tired old parties, each led by men who want to reuse ideas from the past - whether the 1870s or the 1970s - and gamble with our children's futures.

"And instead of focusing on how we create a brighter future for everyone, our politics has been utterly dominated by Brexit. Leaving the European Union is not the answer to the single parent who is struggling to make ends meet, to the child who needs extra support at school, or to saving our planet. In fact, it will only make those problems worse."


There are nine plan headings:
Stop Brexit
Stronger Economy
Better Education and Skills
A Green Society and a Green Economy
Health and Social Care
A Fair Society
Freedom, Rights and Equality
Better Politics
A Better World
Swinson mounts the fiercest challenge to Brexit. She is the most rude about the tired old two-party system and its leaders. Promoting her youth and vitality (oh come on, even sexiness, that little opening in the shirt), there is a pin-up photo of her on page 6 of the manifesto. But Jo, how are you going to give any weight to these attributes and views? Not as outright winner. Then how?

The Green Party foreward:



"The time to vote Green is now. We know these are dark days. The threat of Brexit hangs over us and our democracy is under attack. Above all, the climate and environmental emergency rages from the Amazon to the Arctic. The science is clear - the next ten years are probably the most important in our history. At this time of crisis, we cannot go on as we are. If ever there was a time to vote Green, it's now. We want to unleash a revolution that lifts up everyone. Our plan for a Green New Deal, and four related programmes of reform, will transform the UK and improve the quality of everyone's lives by creating a safer, fairer future for all. We are the only party you can trust to act in time to tackle the Climate Emergency in a way that also tackles pressing social problems. We are the only party you can trust to stand up for remaining part of Europe and for a final say on Brexit, whilst at the same time tackling the underlying reasons why many people voted to leave. We are the only party you can trust to fix our broken democracy, by sharing power as well as wealth more equally, so that we can all be heard. The Green Party has always been on the right side of history and you can trust us to get the future right too. The choices we make now matter like never before. The UK needs a new start. If not now, then when?"


The Greens have five main strategy areas:
The Green New Deal
Remain and Transform
Growing Democracy
The Green Quality of Life Guarantee
The New Deal for Tax and Spend
There are few surprises here. Climate emergency is tops. Remain matters hugely. It's a softer, kinder approach. Yet the Greens have responded very well to that hard "how are you going to pay for this?" question. Impressively, there is a section on funding sources called "Appendix: How it all adds up" from pages 84-88. No other party makes as big an effort in this often-criticised area.

The Green Party doesn't own the climate emergency story, although they can claim a greater right than most others. They had support from a surprising (or maybe not) quarter today. Ignore the Andrew scandal. Prince Charles was speaking at Lincoln University during his tour of New Zealand.



"If we were to think about nature and her assets as humanity's own bank account, it is clear that we have been on a dizzying spending spree for centuries. We now find ourselves dangerously overdrawn and urgently need to figure out how we are going to repay the mounting debt. For the past 40 to 50 years, I have been driven by an overwhelming desire not to be confronted by my grandchildren demanding to know why I didn't do anything to prevent them being bequeathed a poisoned and destroyed planet. Now, we are indeed being confronted by these very children, demanding immediate action and not just words. We have reached a defining moment in our human history, a tipping point, at which we still have the ability to change course, but only in the next 10 years, so a very small window, after which there may be no going back."


Plaid Cymru focus on Wales rather than the big picture, so I'm leaving them out in this review. Nigel Farage doesn't believe in manifestos so forget him. The Conservatives can't be arsed to publish. Anyway, we know by now that Boris will only say "Get Brexit Done".

Sunday 24th November


I'm glad to see the Tories have listened to my lack-of-manifesto moans ;-) They will be publishing shortly.

There's also the latest BBC poll tracker to look at ... coming up.

It's now mid-afternoon and the manifesto is available: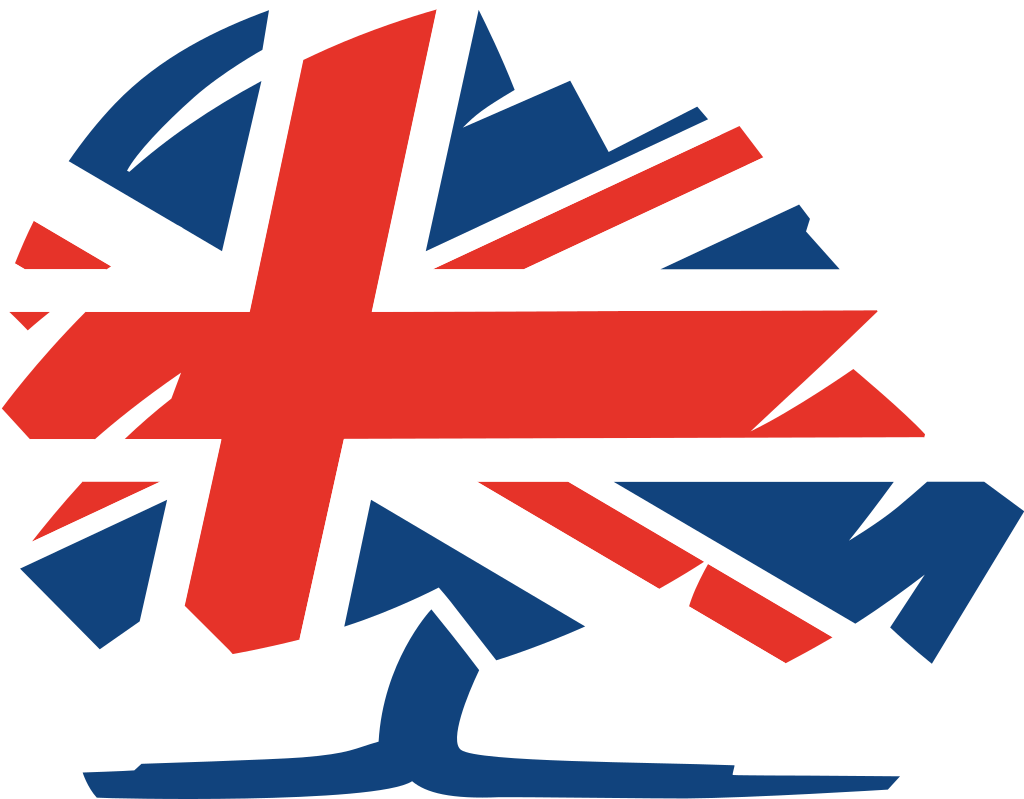 There is also a separate Costings Document: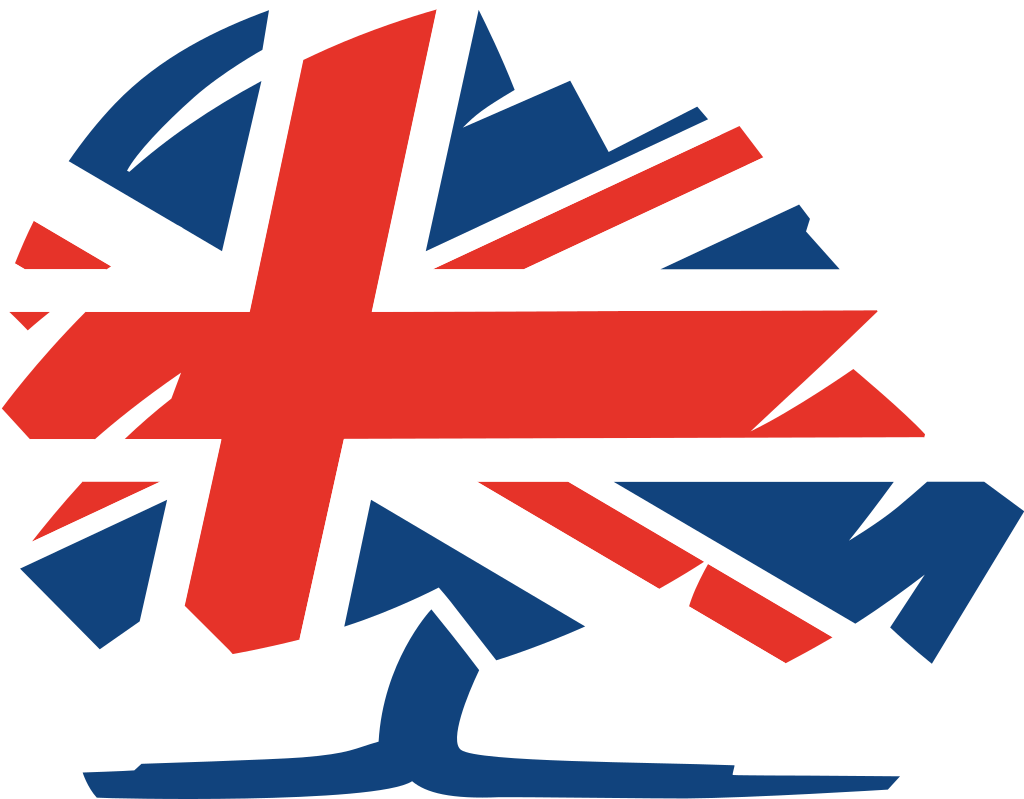 No prizes for guessing the leading theme. Here are six paragraphs in the manifesto intro­duction on page 2:



Get Brexit done - and we end the division and deadlock that have been so bad for our politics.
Get Brexit done - and we restore confidence and certainty to businesses and families.
Get Brexit done - and we will see a pent-up tidal wave of investment into our country.
Get Brexit done - and we can focus on the priorities of the British people, funding the NHS and tackling the cost of living.
Get Brexit done - and we can release that lion from its cage and take this amazing country forwards.
And as things stand, there is only one way to get Brexit done - and that is to return a Conservative Government with a working majority on December 12th.


It's the TV head-to-head all over again. I'm beginning to think that Boris' advisory team (Dominic Cummings? Carrie Symonds?) is very clever. Keep it simple, Boris. Say it sufficient times and people will vote for you. We've got Brexit in the bag and we can deliver. There's no room for confusion. Voters can't forget what you want. Not even YOU, Boris, can forget what you want. Unlike all the other parties who have wish lists full of detail that nobody can remember.

Pulling the cost out into a dedicated document is clever too. It's saying, "Look, we take the funding seriously. We've made the effort to put together a description of the numbers in a way that other parties haven't. We will not bankrupt the nation."

Here are the BBC poll tracker numbers from last Friday: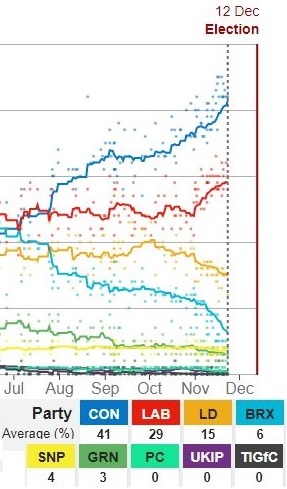 The Tories are now out to 41%, three points higher than on 6th November. Labour are at 29%, also three points higher. The gap between the parties is still 12. They are the only two on the upward march. Boris has gained a staggering 18 points since becoming PM.

The Betway odds today for an overall majority (16th November figures in brackets) are these: Conservative 2/5 (from 1/2), Labour 14/1 (from 25/1) and Liberal Democrat 200/1 (from 100/1). The Labour shortening change looks like the only glimmer of hope.

On 5th November, I invited you all to have a go at predicting the result of this general election. Nobody has replied. I'm obliged to have a stab. With much regret, I reckon Boris is going to be returned with an overall majority of at least 50. Goodbye Europe.

Monday 25th November


My friend Fod Barnes has drawn my attention to the Institute for Fiscal Studies' response to the Conservative manifesto. Here's the email overview:



In this briefing note we outline an initial response from IFS researchers on the Conservative party manifesto. We take policy areas by turn but this is not a full assessment.

Further analysis, including costings and a comparison with other manifestos, will be published next week.

Responding to the Conservative Party manifesto, IFS Director Paul Johnson said:

"If the Labour and Liberal Democrat manifestos were notable for the scale of their ambitions the Conservative one is not. If a single Budget had contained all these tax and spending proposals we would have been calling it modest. As a blueprint for five years in government the lack of significant policy action is remarkable.

"In part that is because the chancellor announced some big spending rises back in September. Other than for health and schools, though, that was a one-off increase. Taken at face value today's manifesto suggests that for most services, in terms of day-to-day spending, that's it. Health and school spending will continue to rise. Give or take pennies, other public services, and working age benefits, will see the cuts to their day-to-day budgets of the last decade baked in.

"One notable omission is any plan for social care. In his first speech as prime minister Boris Johnson promised to 'fix the crisis in social care once and for all'. After two decades of dither by both parties in government it seems we are no further forward.

"On the tax side the rise in the National Insurance threshold was well trailed. The ambition for it to get to £12,500 may remain, but only the initial rise to £9,500 has been costed and firmly promised. Most in paid work would benefit, but by less than £2 a week. Another £6 billion would need to be found to get to £12,500 by the end of the parliament. Given the pressures on the spending side that is not surprising.

"Perhaps the biggest, and least welcome, announcement is the 'triple tax lock': no increases in rates of income tax, NICs or VAT. That's a constraint the chancellor may come to regret. It is also part of a fundamentally damaging narrative - that we can have the public services we want, with more money for health and pensions and schools - without paying for them. We can't."


The full briefing note is here:

Tuesday 26th November


I really struggle with the idea that anti-semitism is rife in the Labour Party.

BBC report yesterday: "The chief rabbi has strongly criticised Labour, claiming the party is not doing enough to root out anti-Jewish racism - and asked people to 'vote with their conscience' in the general election." In the Times, Ephraim Mirvis said "a new poison - sanctioned from the very top - has taken root" in the party. The Archbishop of Canterbury, Justin Welby, has supported him.

The main accusation facing Jeremy Corbyn is that he has not been strong enough in confronting the problem. I can't imagine that Corbyn himself is anti-semitic. He's regularly taken a stand against racism. As I write (12:05pm) he's about to launch a "race and faith" manifesto, which would take the brass-est of necks if he were anti-Jew. He's no big fan of Israel, an outspoken critic of their treatment of the Palestinians, whom he supports. But that is clearly very different.

Hatred of the Jews has tarnished thousands of years of history. I don't need to list the atrocities they have suffered. Their difference has generated huge resentment, primarily through the business stereotypes of miser, usurer, moneylender, even an elite cabal who control finance. You'll have heard the statement "The Jews killed Jesus" (weren't the Romans involved?) The orthodox look different, the men wear the skullcap and sidelocks. Jews have favoured their own, they stick together. Who doesn't? It's what humans do, particularly when others are against them.

But not today surely, in the Labour Party? A party founded on fighting for the oppressed, the down-trodden worker? These sentiments belong to the far-right, don't they?

Wednesday 27th November


Different views have been put forward in this blog on tactical voting. My friend Ali argued vehemently against voting Green. Dave Lovegrove came down on Molly's side. Stroud Labour candidate David Drew cheekily invited all Libdems and Greens to join him when the local Unite-to-Remain pact was announced. This morning our Green councillor John Marjoram pressed two-sides-of-A4 on me as I left the house. The local Green campaigners have clearly encountered pressure on the tactical issue and this document is their response.

Their argument starts with the results of the European Parliamentary Election, 23rd May 2019, South West Region, Stroud Local Counting Area. They quote a list of the top parties, but I've gone back to the original "Result of Poll" declaration and done my own table, which includes voter numbers and is more accurate:


| | | |
| --- | --- | --- |
| Party | Votes | % Votes |
| Brexit | 12,501 | 29.15% |
| Green | 12,143 | 28.32% |
| Liberal Democrat | 9,134 | 21.30% |
| Conservative | 3,741 | 8.72% |
| Labour | 2,863 | 6.68% |
| Others (6) | 2,499 | 5.83% |

Valid votes cast: 42,881
Spoiled ballot papers: 238
Turnout: 46.30%
Why we have to stand here in Stroud, and can win
In the most recent election (Euros, June 2019) the vote in Stroud broke down as follows
[Ed: see my table for minor corrections]
: Brexit Party 29%, Greens 28%, LibDems 21%, Tory 7%, Labour 6%
This was the Euros. They are very different from General Elections, and do not represent a prediction of how a GE would go. They do however show us which party people prefer, because they are not tactical votes. The size of the Green (and LD) vote in Stroud was a surprise. We hadn't realised the degree to which we had been propping up the Labour vote!
In the last General Election (2017), Labour only just got in, beating the Tory vote by just 500 or so
[Ed: 687, actually]
. We can now see that Labour only got in because of all the tactical voting we had done. There were hardly any "left-over" Green (or LD) votes. Almost all the Greens (and LDs) had voted for Labour, leaving only the "hard Green" voters who would always vote Green.
Since May 2017, support for the Labour party has gone down, significantly. Depending on the polls this is by 10%, 16% or 22%. Labour only just scraped in last time. It is quite clear that even with all the Green and LD support that Stroud can muster, we cannot put enough votes together to get Labour over the line again this time. There just aren't any extra votes left - we were already all voting Labour.
This means it's just not possible for Labour to win in Stroud - no matter how we all vote.
A Remain candidate however, CAN win in Stroud. We know that Stroud is pro-Remain, and we only have one unambiguously Remain candidate standing here. We know - from canvassing - that pro-Remain Conservatives will support Molly as the Unite to Remain candidate.
We also know that Remain Conservatives wouldn't support Labour - for two reasons:
- They are strongly opposed to Jeremy Corbyn, and Labour in general.
- Labour's Brexit position, though promising a second referendum, also promises that they would renegotiate a Leave deal with the EU. No one knows how they would then campaign in the referendum.
[Ed: Jeremy Corbyn has said that he will remain neutral.]
This would all be different if Labour's popularity had gone UP since 2017, instead of down, as it has done. If Labour were more popular now, then they would be able to get enough Labour + Green + LD votes to keep the Tory out. But Labour's popularity has gone DOWN. They squeaked in before, and there are now fewer people supporting them. They cannot win this time. We can.
But isn't Labour a Remain party?
Some people think so, some don't. By not declaring for either side they are hoping to appeal to both. If they are in government, they will go back to the EU and renegotiate a (presumably soft, Lexit) Brexit. They give themselves three months for this. They would then take that deal - and the Remain option - to the people in a second referendum. They will not say on which side of that referendum they would campaign. Leavers are concerned that in a second referendum, we would vote to Remain. Remainers are concerned that, having negotiated this new wonderful deal, they are likely to want to campaign for it, and that they might be able to persuade people to accept a deal. Most of the people we speak to cannot be certain that voting for Labour will give them the Brexit result they want.
How will The Brexit Party standing here affect us?
It's good news for us. Neither the Greens nor the LDs are likely to lose any votes to them. It's not so good news for Labour. Many Labour voters want us to Leave the EU. Some of them will vote for the Brexit Party. It's not good news either for the Conservatives, of course. Everyone else will go down, except the Remain Alliance candidate.

Thursday 28th November


I'd wondered what had happened to her. Today a Siobhan Baillie Conservative flyer dropped on the mat.

The first page states her [three] "priorities for Stroud, The Valleys & Vale". First, her statement of intent to "be your hard-working local MP". Quite quaint, really. Certainly free of the toxic politics to which we've become accustomed. Next she says, "Less talk, more action". Always a good thing. Then she spoils it all with "Get Brexit Done".

Page 2 sadly continues with the familiar language and topics of this 2019 campaign.



It's a Conservative majority or a hung parliament.

The Times: "Polls teeter between hung parliament and slim Tory majority".

At the end of this election, we'll either get a Conservative majority - or a hung parliament.

[Ed: Yes, got it.]

The Herald: "Jo Swinson says no to second Tory alliance".

The Lib Dems have ruled out a coalition with the Conservatives. So a hung parliament means Jeremy Corbyn as Prime Minister. With five long years of gridlock and uncertainty.

Reuters: "SNP to back Labour government only with Scottish independence vote".

Corbyn would have to be propped up by the Scottish Nationalists. And they're demanding ANOTHER referendum to break up Britain.

Don't risk five long years of Corbyn in charge.


Is this the woman that would oust Labour and David Drew in Stroud? Ye Gods.

Where is she? There's almost no Conservative presence in Stroud, where Labour and Green are well-represented. There's an established Labour stall in the High Street, no others. I've only seen one Conservative board, on a farm gate out towards Uley. So, I looked at her website to find out more and sure enough she's commented on this.



"I have been asked a few times why we do not have an office in Stroud town and/or a constant presence on the High Street there. It is because I have all of my team out knocking on doors and delivering leaflets to the WHOLE constituency. The electoral commission sets all parties a fixed budget for election expenditure. We took a view that having an office in one place would not be a good use of funds. I also often hear from people in other towns like Berkeley and Dursley that they feel too much effort and focus is on Stroud town. I want to ensure that we are seen to be spreading our efforts as widely as we can."


She's covering more rural areas. Young Farmers' meetings? Car boot sales in Frocester?


Friday 29th November


YouGov has just published the General Election 2019 MRP (Multilevel Regression and Post-stratification - you knew that, didn't you?) model, updated on 27th November using data up to the 26th.

Grim reading. Here's the national picture:


Party
Voting
intention
estimates
Seat
estimates

Conservative

43%

359
Labour
32%
211
Liberal Democrat
14%
13
Brexit Party
3%
0
Green
3%
1
SNP
3%
43
Plaid Cymru
0%
4
Other
1%
1
Northern Ireland


18

It's the big number at the top right that we really don't like.

Some of the numbers look a bit odd. The Greens and the SNP both have 3% of voting intention, but that translates into 1 and 43 seats respectively. Because the Green votes are spread across many UK constituencies and the SNP votes cast only in Scotland? Northern Ireland voter intention is blank - because the parties standing are all NI-specific (Sinn Féin, SDLP, DUP, Aontú and more) with no representation from the main English parties. Plaid Cymru has 0% voter intention but 4 seats. That 0 must be the effect of rounding, i.e. less than 0.5% shows as 0%. Relatively few votes are cast, but enough to get them elected in 4 constituencies.

Here's a graph-ic of the local situation in Stroud:




You can visit the YouGov MRP site here: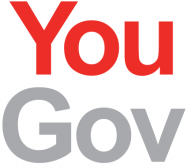 Betway overall majority odds today: Tory 1/3, none 9/4, Labour 16/1, Libdem 200/1.

Where do we stand? The answer is both national and local.

Nationally, Boris has grabbed the initiative. Why? Leavers want Brexit done and he's cornered that market. He's a bounding puppy, forever expressing optimism. Jeremy is dour, somehow glued to grim topics however worthy they may be. How on earth did he get embroiled in the anti-semitism debate? People want to be happy. You can say that personality shouldn't matter, but it does.

Do voters choose their local candidates or the national party? In Stroud, they are very loyal to David Drew, regardless of views of Jeremy Corbyn. If Siobhan Baillie were to squeeze him out, there would have to be a lot of teeth-gnashing. Her latest flyer (see yesterday's blog) was abject. Policy-free, repetitive, just weak. Maybe the electorate simply doesn't read these things, preferring to see the pretty young pretender and the boisterous party leader.

The Greens (see their tactical briefing document of two days ago) say that Labour can't win in Stroud and they can. What they write is compellingly argued, but I just can't see it. The prevalence of Labour posters, in excess of Green even in the "Muesli Belt" round us, goes against the idea. YouGuv doesn't seem to think so either. If they did win, where would that leave us? One more anti-Tory seat, but one less for the Tories' closest challenger.

We must keep Boris out. If he gets in, it's Leave. To achieve Remain, we must all back the party that threatens him most in our local area. That's Labour here. Liberal Democrat and Green are nowhere. If you don't like Corbyn, well ... too bad. I'd rather we were in the EU with him as PM than out with Boris.

Sunday 1st December


You may have noticed (I wasn't at all sure that anybody was reading this blog, but Dave Lovegrove had noticed this silence when we met at lunchtime today) that I didn't post yesterday.

He was also right about the reason. I was feeling too gloomy.

It was mostly to do with the YouGuv MRP. Convincing and numbing material. If you haven't already taken a look around their site, please do so. It's a startling masterclass in analytical and statistical prediction: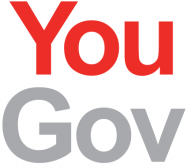 The numbers say that Boris is going to be returned by a substantial majority. Nuff said.

I thought I'd look at the Stroud contest in more detail. I'm really surprised and dismayed by reports in the Stroud News and Journal of the last ten days. According to this local paper, William Hill and Sky Bet have Conservative Siobhan Baillie favourite at 2/5. Labour David Drew is at 7/4 and Green Molly Scott Cato at 16/1.

How can that be? I've already commented on the weakness of Siobhan's promotional literature and her absence in Stroud. On what do William Hill base their odds? It must be on their national calculations, the Boris (and Jeremy) effect, transmitted down to local level. Or is there something going on down in the Severn flatlands that I don't know about? She's talked about campaigning in the whole of the constituency; see last Thursday's blog. As you who know the area will attest, it's very different down in Berkeley and surrounds. It's farming country, not Stroud yoghurt-weaving. I think I need to take a trip down there to test the temperature.

So where can I find glimmers of light?

Tuesday 3rd December


My finishing question on Sunday was about where we might find some light.

Will the "voter surge" help, particularly the youth vote? Time to crunch numbers.



The BBC reported last week that 3.1 million people have registered to vote since the end of October. 1.1 million of these are under the age of 25.

At the 2017 general election, 46,835,433 were registered. 32,220,817 valid votes were cast, a turnout of 68.80%. By December 2018, the first number had risen to 47,785,500. Although it's a year old now, good enough to work with.

That gives us around 51 million eligible voters nationally after recent registrations. Let's assume turnout of 70% this time. A slight increase, as I think this election has sparked more interest than most, but depressed also by December cold/dark/pre-Christmas timing. We might expect therefore valid votes of 35,700,000. I'm assuming that the newly-registered will vote, at 1,100,000 accounting for 3.08% of valid votes. 35% of that gives 385,000 under-25 votes. YouGuv's age-demographic analysis in 2017 showed that 78% of under-25s supported Remain parties (38% Labour, 18% LibDem, 15% Green, 7% SNP). 300,300 new pro-Remain under-25 votes. As a proportion of all votes cast, 0.84%.


Not a big dent in Boris' lead, is it? Particularly as the opposition-to-Leave youth vote is split, with Labour accounting for only 38% of that young Remain uplift, just 0.32% of the valid total. At national level, it looks like no help. Except that it's the seat that counts in our electoral system, and in a marginal like Stroud? Let's have a look.



In the Stroud 2017 general election there were 63,816 valid votes cast ...


[Just need some numbers back from Stroud District Council]

Wednesday 4th December


I'll re-start the youth vote post of yesterday. More number-crunching, this time of the local Stroud situation.



Today I've had confirmation from the Stroud District Council elections department that since 24th October 3,350 new voters have been registered.

Applying all the national maths of yesterday, we'd get 1,189 new under-25 votes, 927 U25 Remain and 452 U25 Labour.

There is a new factor. I heard a rumour about Extinction Rebellion telling their people in Stroud to back Labour over Green. I rang the Labour Party office and they confirmed the rumour. I couldn't get hold of XR or the Greens. What if half of the U25 Green/Libdem vote fell in behind Labour? 200 more votes would take the Labour U25 vote to 650.

It's not a conclusive number, but it's something. David Drew's majority in 2017 was 687. In 2001 it was just 350.

One final bit of light is the effect of the 2016 Referendum. 6,828 more Stroud people voted for Remain over Leave.


I'm struck of course by the madness of our electoral system. We bemoan the lack of proportional representation. Yet here we are with first-past-the-post offering Labour a chance of victory in Stroud in this vital election. It's the seat that counts, not the proportional votes. The final small numbers that get you over the line past your chief opposition. Win 50 marginals with 50,000 well-used votes. Waste 50,000 votes in places where you don't stand a chance. Very odd.

Friday 6th December


I had a day off yesterday and went up to London to join old friends Martyn and Seema for our annual pre-Christmas lunch and tea treat. We ate in a French restaurant in Wardour Street then strolled north for "tea" in the Charlotte Street Hotel.

As usual it was a great day out, with dear friends. If ever I need reminding that I'm a European, I only have to meet this pair. In the early 2000s we worked on a project for iPlanet, an Internet software company funded by AOL (Netscape) and Sun Microsystems. We all had European jobs; I was in customer education, Martyn in partner sales and Seema in marketing. We rarely met at any office, usually at conferences or on customer visits in European centres: Paris, Munich, Madrid, Athens and London. We regularly had dinner together on those trips.

There was no sense of a General Election in central London, so different from Stroud where I can see its mark everywhere. Not surprising. Elections are evident in communities and it's difficult to see a community in Charlotte Street or indeed anywhere in the West End. The last 50 years have eradicated them. Oxford Street is the heart of consumption, not much else. My bus from Paddington went past Selfridges. There was a ground-floor corner display with a single offering: a white Porsche roadster. In Wardour Street, I passed a chocolatier with foot-high model houses made out of the dark stuff. There was a charcuterie selling several types of jamon serrano, at prices four times those of my local delicatessen.

For a day I was part of this. The Charlotte Street Hotel bar was packed at 4pm despite eye-watering prices (thank-you, Seema). Who were these people? It's a kind of indulgence to feel guilty, but I do. I don't have a lavish lifestyle. Neither have I suffered from austerity, except as the indirect bank-of-mum-and-dad, which has not been a real burden. I have assets, savings and no debt.

Swift change of tack. Our friend Helen Sunderland pointed out a cartoon in The Guardian last Wednesday by First Dog on the Moon, aka the Australian Andrew Marlton. It's titled "You know you're not legally required to like Jeremy Corbyn in order to vote for him, right?" He says:



"Here in Australia we'd love to have a Jeremy Corbyn and yet there you are with a perfectly good one letting it go to waste. This election is many things but it is

not

a competition to find who everyone thinks is the least horrid fellow. It's not about Jeremy Corbyn at all.

"It's time to stop sooking

[Ed: Australian slang for "whinge"]

about Jeremy Corbyn and get to work electing a government that isn't trying to eradicate poverty by killing all the poor people!"


Here's the cartoon: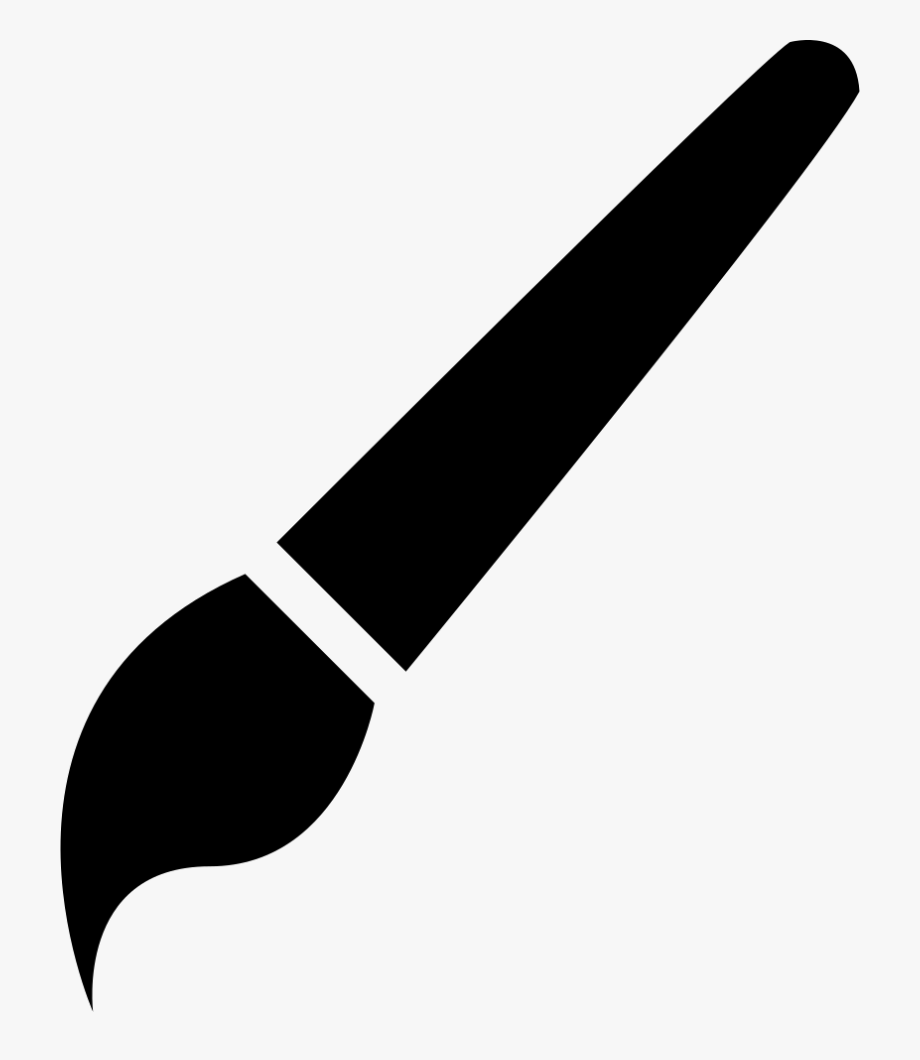 Saturday 7th December


The only visits we've had from campaigners this election are from Labour, three so far. I understand that visiting party workers are staying with supporters all round Stroud; my near-neighbours Chris and Chris have been putting people up. Today's pamphlet is very strong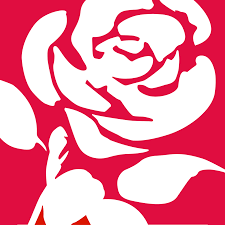 Here's the summary detail inline:



A vote for David Drew and Labour is a vote to:
Kickstart a Green Industrial Revolution, with a path to net-zero carbon by 2025
Protect and invest in our NHS and introduce a National Care Service
Properly fund our schools and colleges, particularly for SEND and mental health
Address the housing crisis - boost social housing and homes where they're needed
Boost local businesses and jobs, invest in transport, training and rural services
Stop a disastrous Tory Brexit, bring the country back together, give people a final say
Only David can beat the Tories and their disastrous Brexit.


I can't fault it.

Which I couldn't say about the Brexit Party communication we received yesterday in support of the candidate Desi Latimer (no photo, two of Nigel Farage instead). Hello Desi, I thought, you sound a bit "Phoenix Nights". I had an image of him crooning into the microphone in front of silver shimmering curtains, the audience swaying with Brexit football scarves. How wrong could I have been? Horribly guilty of stereotyping. I'd better give her some time, from an interview she did with the Stroud News & Journal in early Demember, before we move on to the pamphlet.



Desi Latimer: What the Brexit Party would do for Stroud
What would you do to improve Stroud? Stroud is a mix of very active local groups combined with a lot of voters who feel excluded from real decision making. The biggest improvement would be in increasing engagement, bringing a stronger sense of inclusive democracy. Engagement does not stop with casting a vote, it is communities pulling together with the resources to make change possible. We see a lot of that in Stroud and Cam and Dursley, we could see more.
What are your thoughts on the Javelin Park waste incinerator? It is an issue which I find divides Stroud. I would like to hear more views for and against it. What we do not want is to export our waste to other countries. It is not acceptable that we pay countries like Vietnam and Malaysia to take our plastic waste and dump them in their landfill or burn or thrown away in the ocean.
Any view on housing? We want to encourage small and medium sized developers by simplifying the planning process to increase housing supply. Affordable housing is a challenge in Hardwicke, Painswick, Severn and Vale. But the answer is not to build on green field sites, or to endlessly infill without providing the infrastructure to support it.
What about Brexit? The Brexit Party's priority is to leave the European Union and implement the expressed will of the 52 per cent. It stands for a Clean Break Brexit which will give us the freedom from day one to shape the future of our economy and society. No more wrangling with the EU over our own laws, borders and money.
Your view on the NHS? There should be no privatisation of the NHS. It must remain a publicly-owned and free at the point of use. We want to Introduce 24-hour GP surgeries to relieve the strain in A&E departments. Re-introduce non-degree nursing and midwifery professional qualifications and create a new nursing qualification in social care. Fundamentally, we need a national debate to discuss ring-fencing the NHS budget and the tax revenues that pay for it. Avoid politicising NHS during election.
How about defence? We believe in a strong independent Britain as a leading member of NATO and will meet its commitment to spend as a minimum 2 per cent of GDP on defence. Our soldiers would not become part of an EU army. We will withdraw from the European Defence Union. And leave the EU defence procurement directive to ensure the UK retains the right to procure defence contracts at home.
What about education? We will abolish interest on student loans and the target to push 50% of young people into Higher Education. We will improve tax incentives for employers to take on genuine apprentices. We believe parents should have the choice to send their children to schools which suit their children best.
What is your view on climate change? The Brexit Party was the first party to announce that we will plant tens of millions of trees to capture CO2. We also want to invest in recycling our waste in this country. It is not acceptable that we pay other countries like Vietnam to take our waste and dump them in their landfill or burned or thrown away in the ocean.
How about immigration? Immigration needs to be controlled. Crack down on illegal immigration and reduce annual immigration by introducing a fair points system that is blind to ethnic origin. And always be welcoming to genuine refugees.
Hmmm. Are you thinking what I'm thinking? Let's extract some of the content:



"Increasing engagement ... inclusive democracy ... increase housing supply ... the answer is not to build on green field sites ... no privatisation of the NHS ... publicly-owned and free at the point of use ... relieve the strain in A&E departments ... create a new nursing qualification in social care ... ring-fencing the NHS budget ... leading member of NATO ... plant tens of millions of trees ... be welcoming to genuine refugees."


Yes, the selection above could come from a number of other political sources, right? The only real difference in Desi's interview is Clean Break Brexit. That's the focus of the pamphlet, which you can read here: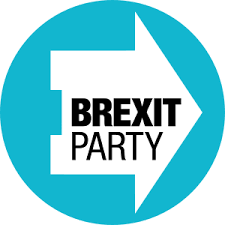 Here are some of the headlines:
The choice on December 12th is not Left vs Right, but Leave vs Remain.
There can be no real Brexit without The Brexit Party in Parliament.
Do you want a Brexiteer or a Remainer MP?
We are standing against Labour and the Remain alliance across the country. Our aim is to stop the Remainers creeping into power and sneaking through a rigged second referendum to stop Brexit. Corbyn's Labour has broken its promise to respect the referendum and abandoned five million Labour Leave voters.
We are also standing to make sure that Boris Johnson keeps to his word to get a proper Brexit done.
Leavers, don't waste your vote.
The question is: what damage can the Brexit Party do in Stroud next week? We know that 12,501 people voted for the party in the May European election, top of the list, 29.15% of valid votes cast. That was European, very different, but how might that number affect this General Election? The Labour/Green debate has dominated Stroud in recent weeks, but I wonder if the where-do-Brexit-people-go factor is equally significant.

Sunday 8th December


A new pamphlet from Molly and the Greens: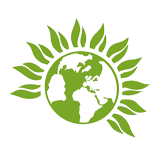 This is another "We can win" message based on results from the May European Elections in Stroud; see discussions on the Brexit Party yesterday in this blog. "In May, Greens picked up more votes than Labour and Conservative parties combined in Stroud. On the doorstep, we're seeing former Labour and Conservative voters are backing Molly in this election. The LibDems have stood down for the Greens in Stroud - one of only a handful of seats across the country that Greens can win."

You can see the graph from the pamphlet showing the party numbers here: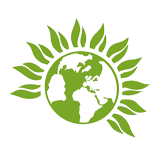 Monday 9th December


So, based on the May European election results, we have, outside the Labour and Conservative parties, 21,277 Remain (Green and Libdem) and 12,501 Leave (Brexit Party) voters running loose round the constituency. Who will gain and lose from their presence?

Hold on, I'm one of the first group. I voted Green in the Europeans and have done so in all local elections. But I have always voted Labour in the General Election. Why is that? Intense dislike of the Tories, formed in the Thatcher era, is a key driver. I've had to vote for the party most likely to keep them out of power. At national level the Green Party has never been able to provide that level of opposition. So far, only the welcome and spirited voice of Caroline Lucas. It has been a pressure group, not a party of government. For me in Stroud this time, the Greens would have to be able to challenge the Conservative votes.

On Friday evening I met our Green grandee John Marjoram at a Goodwill Evening drinks event. He said they had upped the effort, 26-hour days and 8-day weeks ;-) I could barely look him in the eye.

There is much more to say here, but ...

STOP PRESS: Jezza at FGR

Sarah came home at 3pm and said that Jeremy Corbyn was going to be at Forest Green Rovers at 3:30pm. I jumped into the car and went over, got there by 3:40pm. The people on the gate said that he'd only just left Bristol. Great, time to relax, time for a cup of tea (free, with oatmilk of course).

The battle-bus drew up and Jeremy was welcomed by club chairman Dale Vince, CEO of Ecotricity, and David Drew, Labour parliamentary candidate and former chairman and vice-chairman of FGR. How the Green Party must hate the fact that the local green energy company boss supports Labour, and here today his vegan sustainable football team entertains Jeremy Corbyn.

There was a good crowd in the main stand. Dale gave Jeremy an FGR shirt, inscribed Jezza, number 10. Jeremy gave Dale a Labour scarf. Jeremy spoke well about the big issues. I'm not sure that he mentioned Brexit once.

Here are links to some pictures:
Jeremy arrives at FGR:

The crowd in the main stand:

Jeremy addresses the crowd:


Three days to go. It's time for me to declare:



Vote

Labour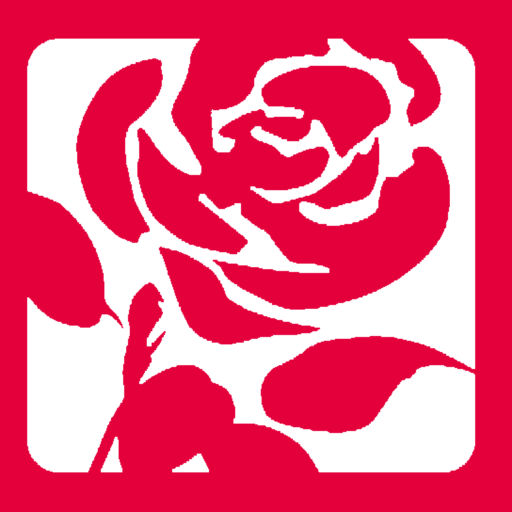 Tuesday 10th December


Following on from the Labour rally for Jeremy Corbyn at Dale Vince's Forest Green Rovers yesterday, look at the banners on the Ecotricity HQ in Wallbridge. European, and green within Labour.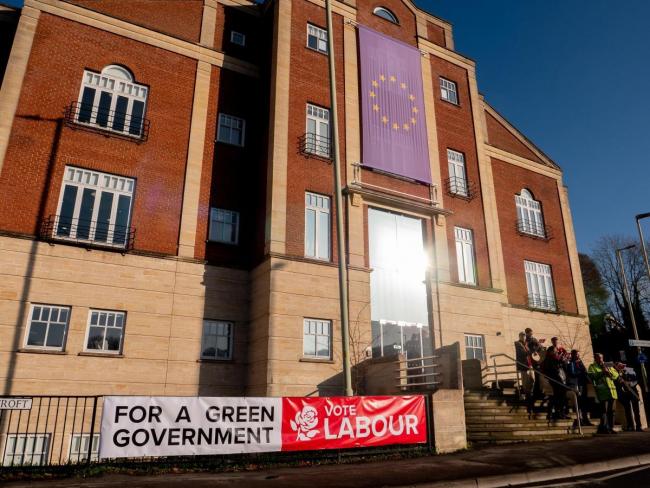 Clearly, Dale Vince is doing what he can. David Drew sounded very pleased with the campaign so far, but urged the faithful to keep going right until close of ballot on Thursday.

Back to the numbers. Here's the BBC poll tracker from yesterday:




Two days out this does not look good. The Conservative-to-Labour gap is 11 points. Their graph trajectories are the same. Sadly, on a national level this leaves too much to do. Notice that I've included % ranges this time. The upper end of the Labour range is still 3 points less than the lower end of the Conservatives.

Back to Stroud. As I've already said, it's been a confident campaign from Labour. But are there threats laying in wait from Green and Brexit? Labour clearly worry about the Greens enough to have published a specific leaflet titled "Are you thinking of voting Green?"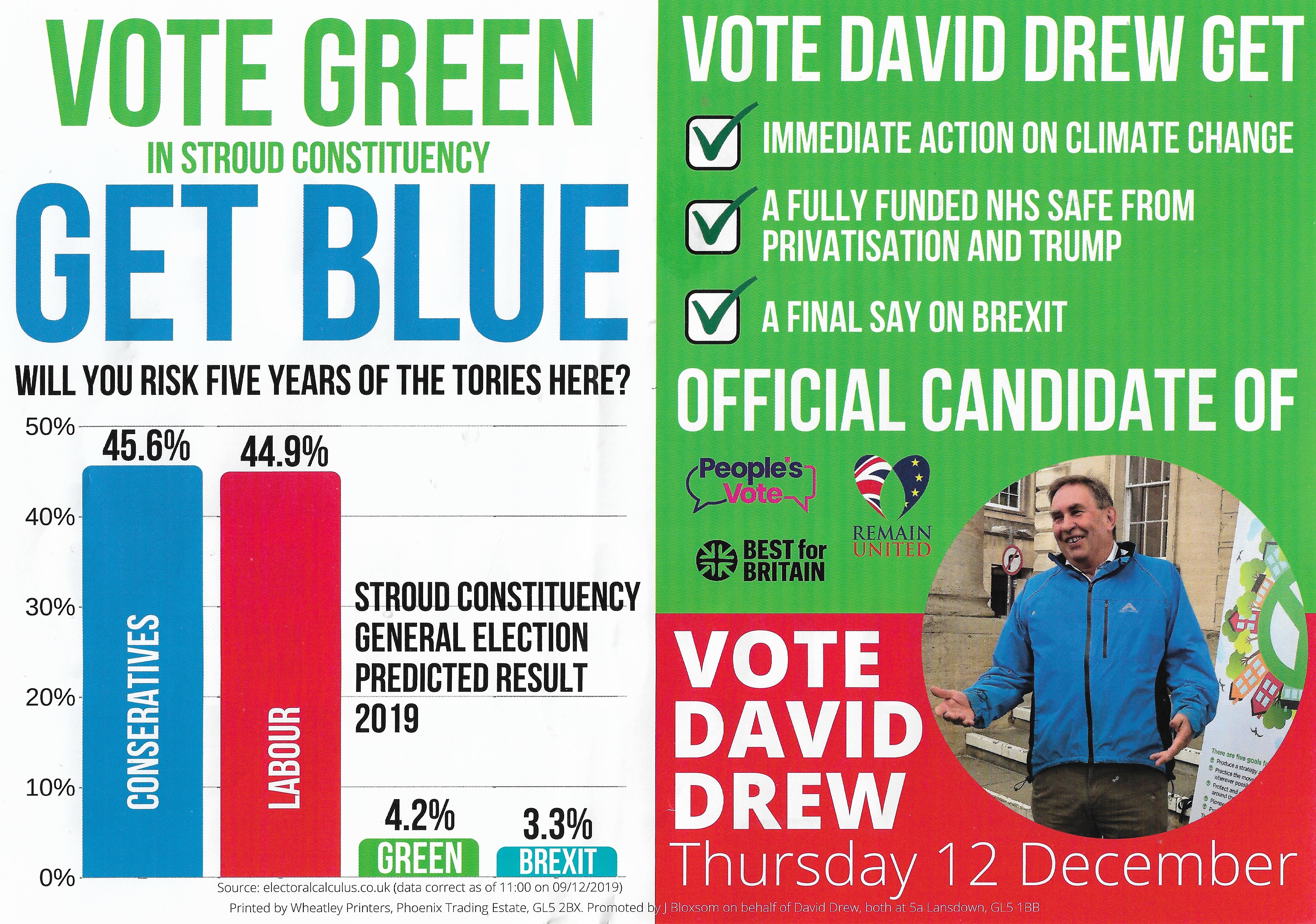 Click on leaflet to see larger version

If it's Green that will reduce the Labour vote, will the Brexit Party leech support from the Conservatives? Are sufficient Brexiteers angry enough with the Tories? You could ask the same of disgruntled Labour Leavers. Which loyalty runs stronger in them? The traditional Labour commitment or the new Brexit fervour?

I still have no handle on the Conservatives and therefore worry. Siobhan published a revised pamphlet yesterday: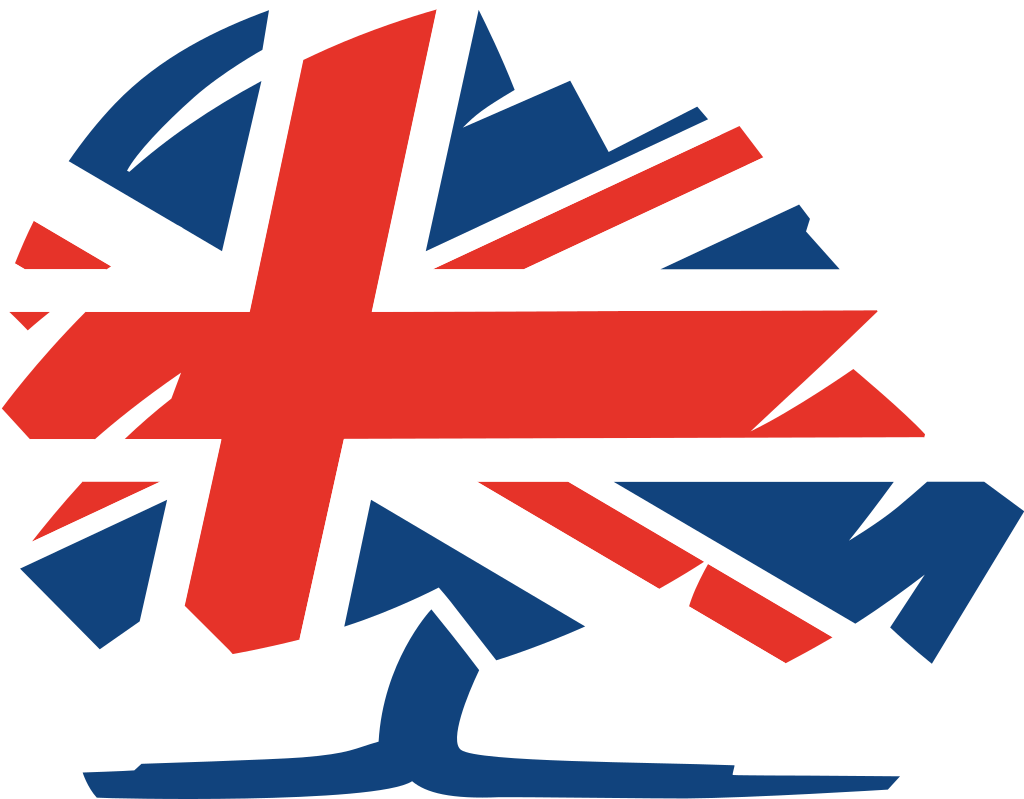 I think she's a bit confused. Did she really mean to say, "Vote LibDem, get Jeremy Corbyn". Isn't that another constituency, Siobhan? They're not standing here. But who knows? Maybe the fresh face will win the day :-(


Wednesday 11th December


What else with one day to go?



Vote

Labour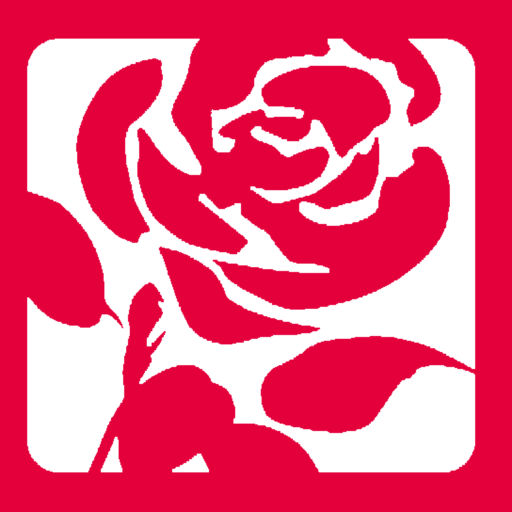 There is so much to do. Look at the Electoral Calculus graph below. The red dot is the EC prediction, the green dots come from other polls.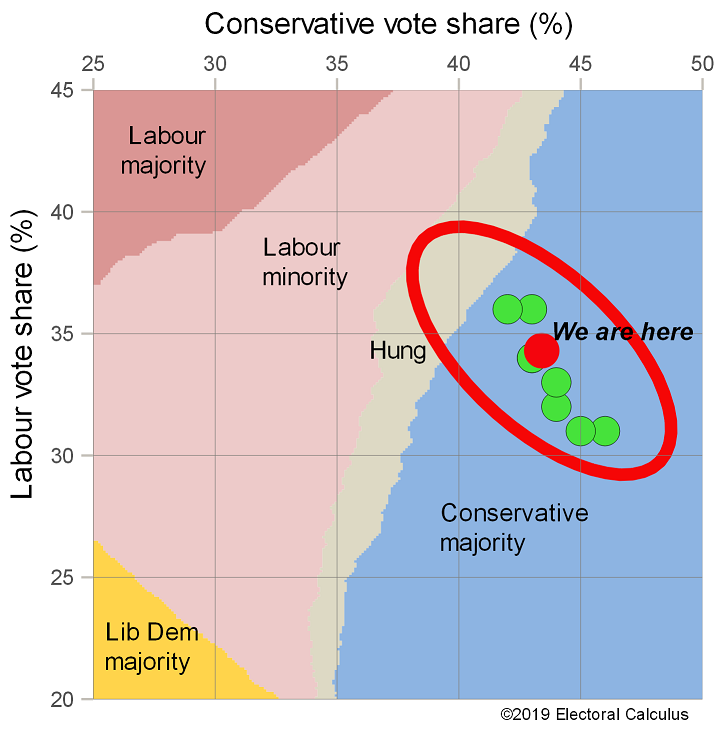 Click on graph to see larger version

The Labour campaigners haven't stopped yet. It feels like down-to-the-wire communication, Alex Ferguson's "squeaky-bum" time. Or, with Liverpool FC's renaissance, Kloppage Time. This Christmas-themed :-) flyer dropped through the door at 7pm. The first, albeit light-hearted, jibe at the Conservative opposition of this contest. The second reference in two days to the closeness of the race, placing the Tories in the lead (How can they be? See yesterday's blog about Siobhan's pamphlet error. Hopeless. Must be the Boris and Get-Brexit-Done effect). It really is time to line up behind Labour in Stroud.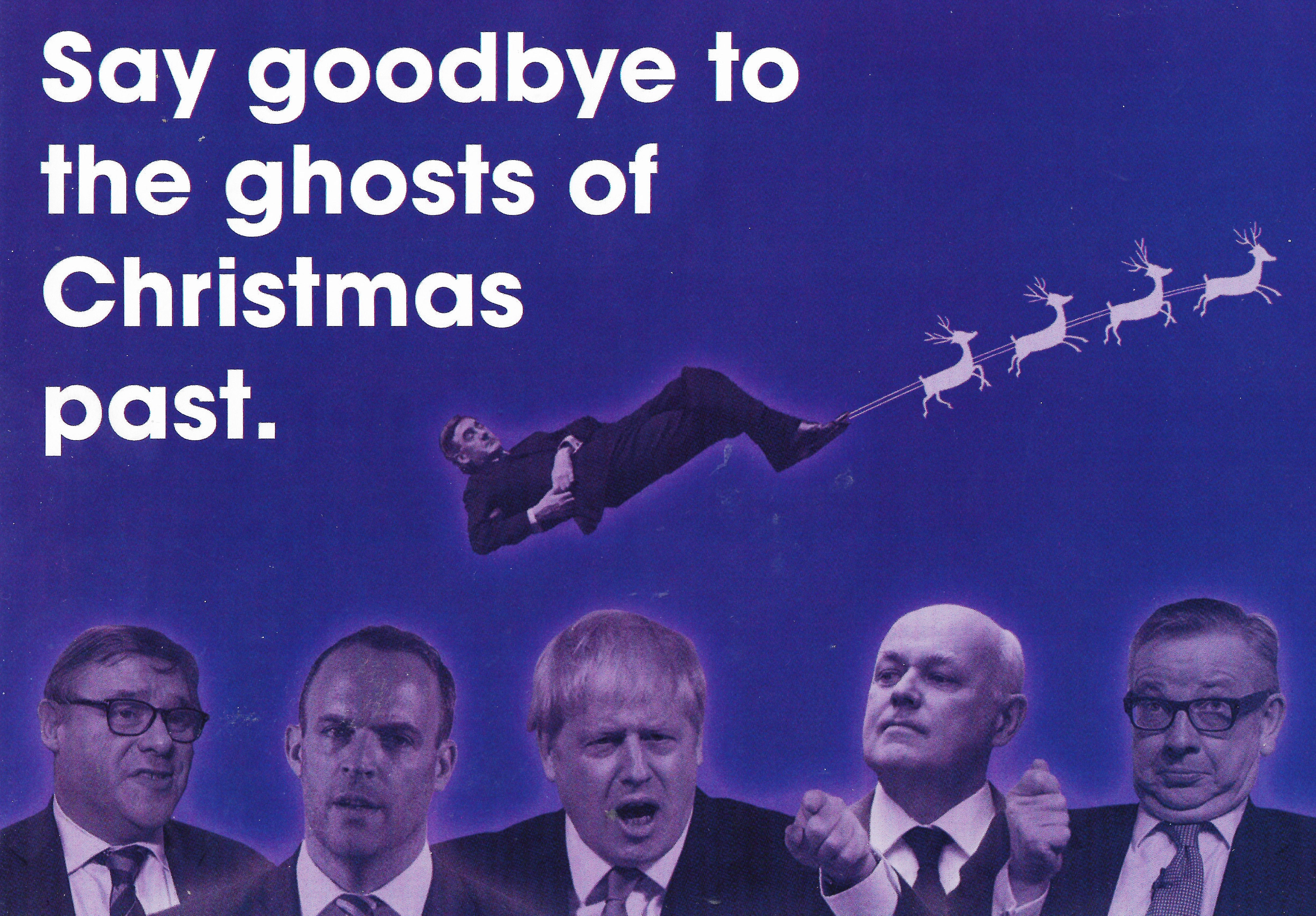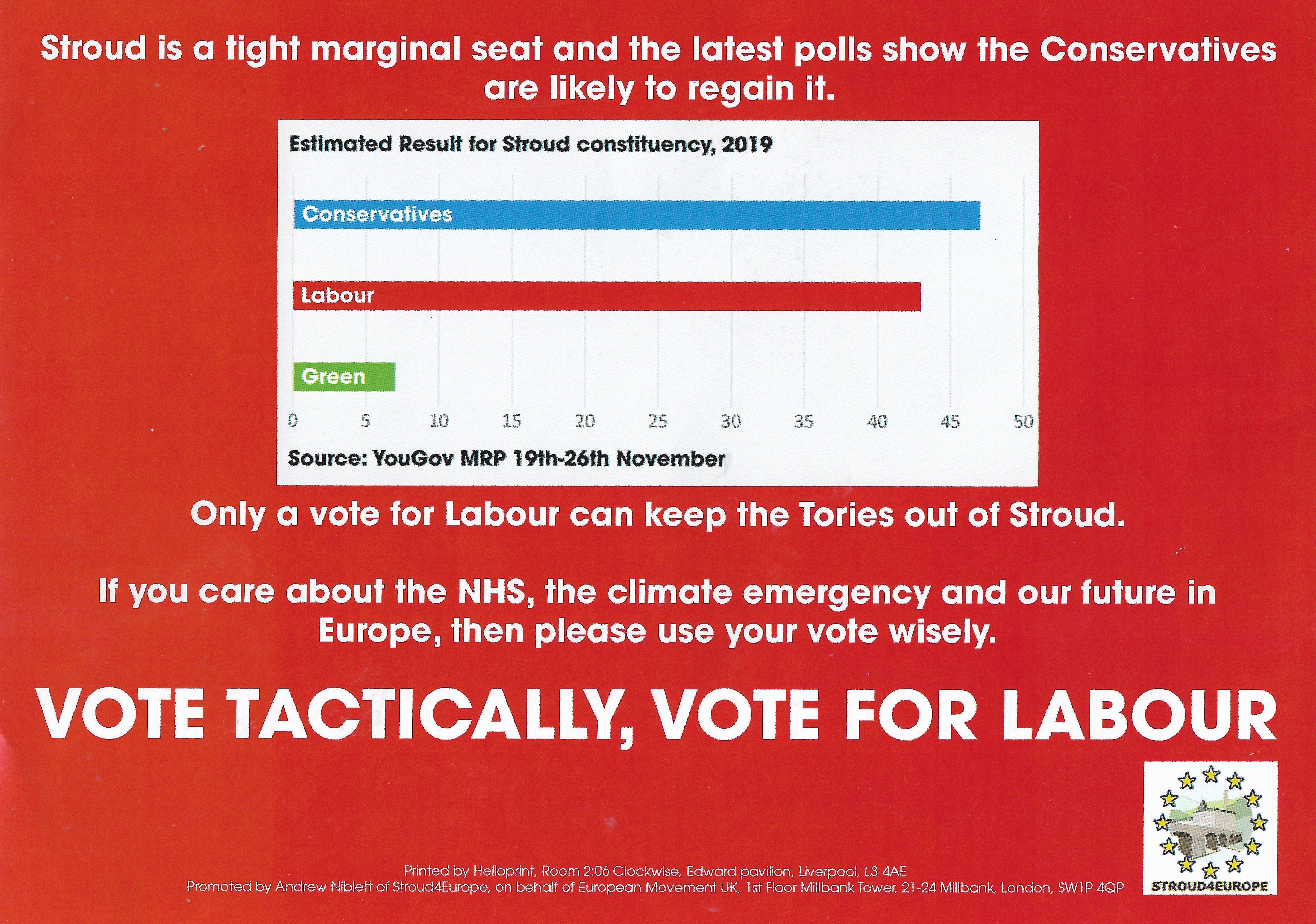 Click on pictures to see larger versions

Thursday 12th December


Polling Day!

Good morning, Stroud.



Vote

Labour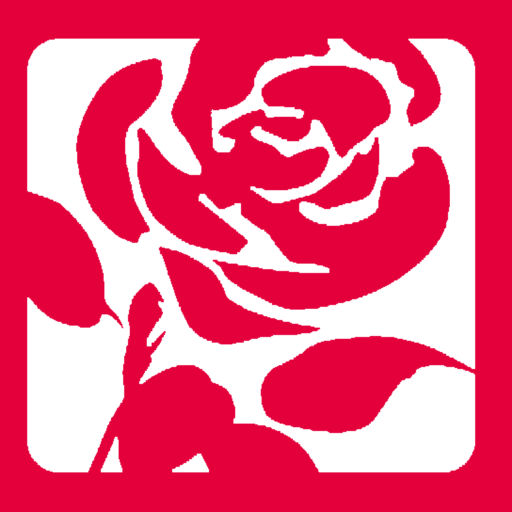 Off to vote now and then down to Labour HQ to see what last-minute jobs need doing.

Not many at the polling station at 7:45am, although I did meet my friends Alf and Geraldine Florio. Do you get worried that you're going to put your X in the wrong box? I always have to check and double-check.

The ballot paper made me think that I've neglected one person in the whole of this blog. Glenville Gogerly, the Libertarian candidate.




The Labour party campaign office in King Street was buzzing, even perhaps a little over-excited. No bad thing on a terribly wet morning. Already I'd seen parties of supporters around town. There was a band of 30 singing and dancing outside the Ecotricity main building at Wallbridge. A similar group on the footbridge over Merrywalks, waving scarves and posters. Lots of motorists tooting appreciation. It really has been a fantastic effort. What's more, I haven't seen a single campaigner from another party during the whole six weeks.

They didn't seem to have anything appropriate for me to do, so I checked the bookies. Betway online today has these odds for an overall majority: Conservative 2/5, none 2/1, Labour 20/1, Liberal Democrat 500/1. I went into Labrokes on Gloucester Street to get odds for the Stroud constituency. A different picture altogether: Labour 2/5, Conservative evens and Green 25/1. I put my defensive bet on the Greens: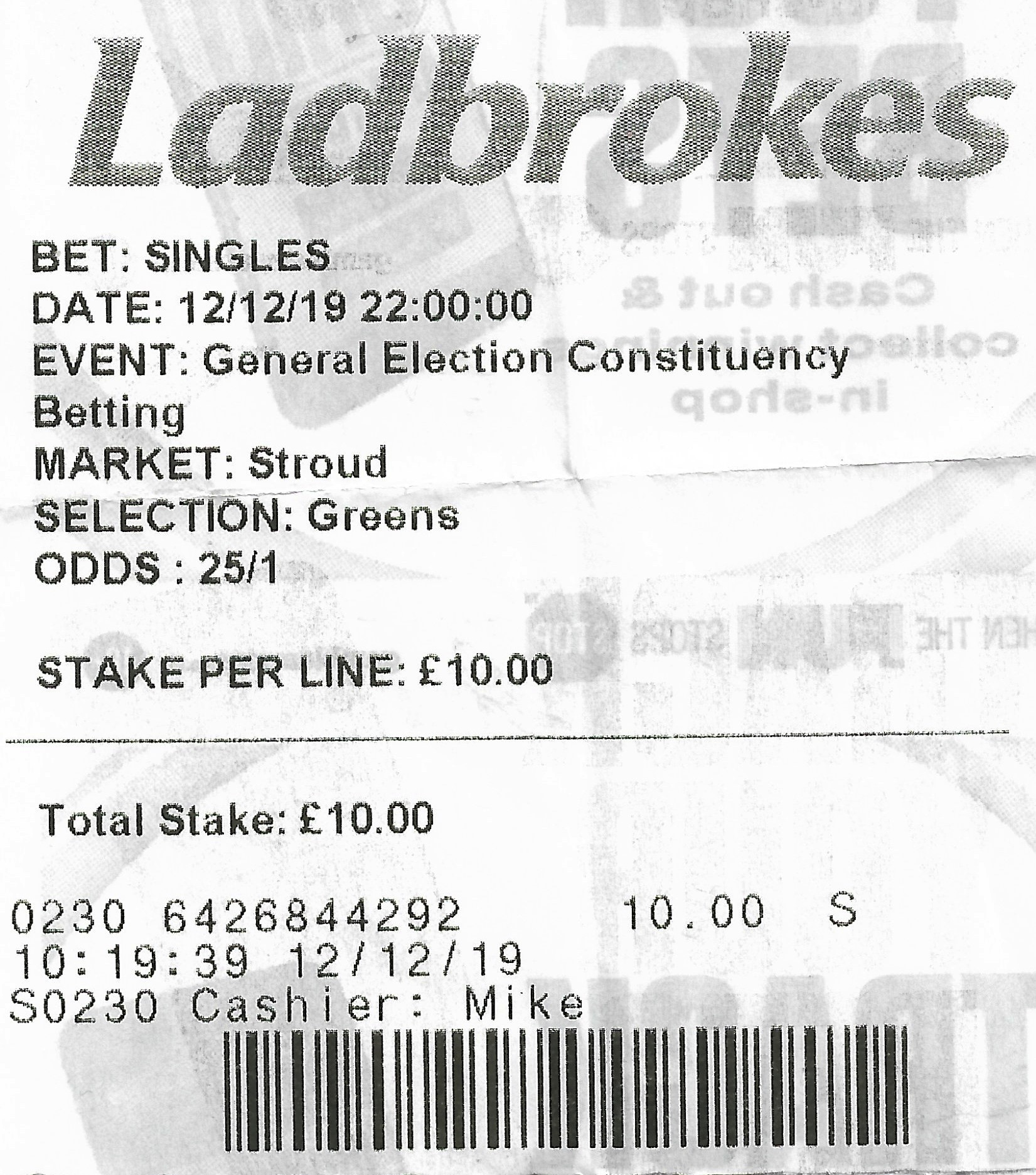 I got home around lunchtime and was greeted by Jason Orsi, proprietor of Toni's Kitchen opposite. The biroldo - pig offal, tripe and blood sausage from his native Lucca in Tuscany - had arrived. He beckoned me over to try some, sitting me down with this platter.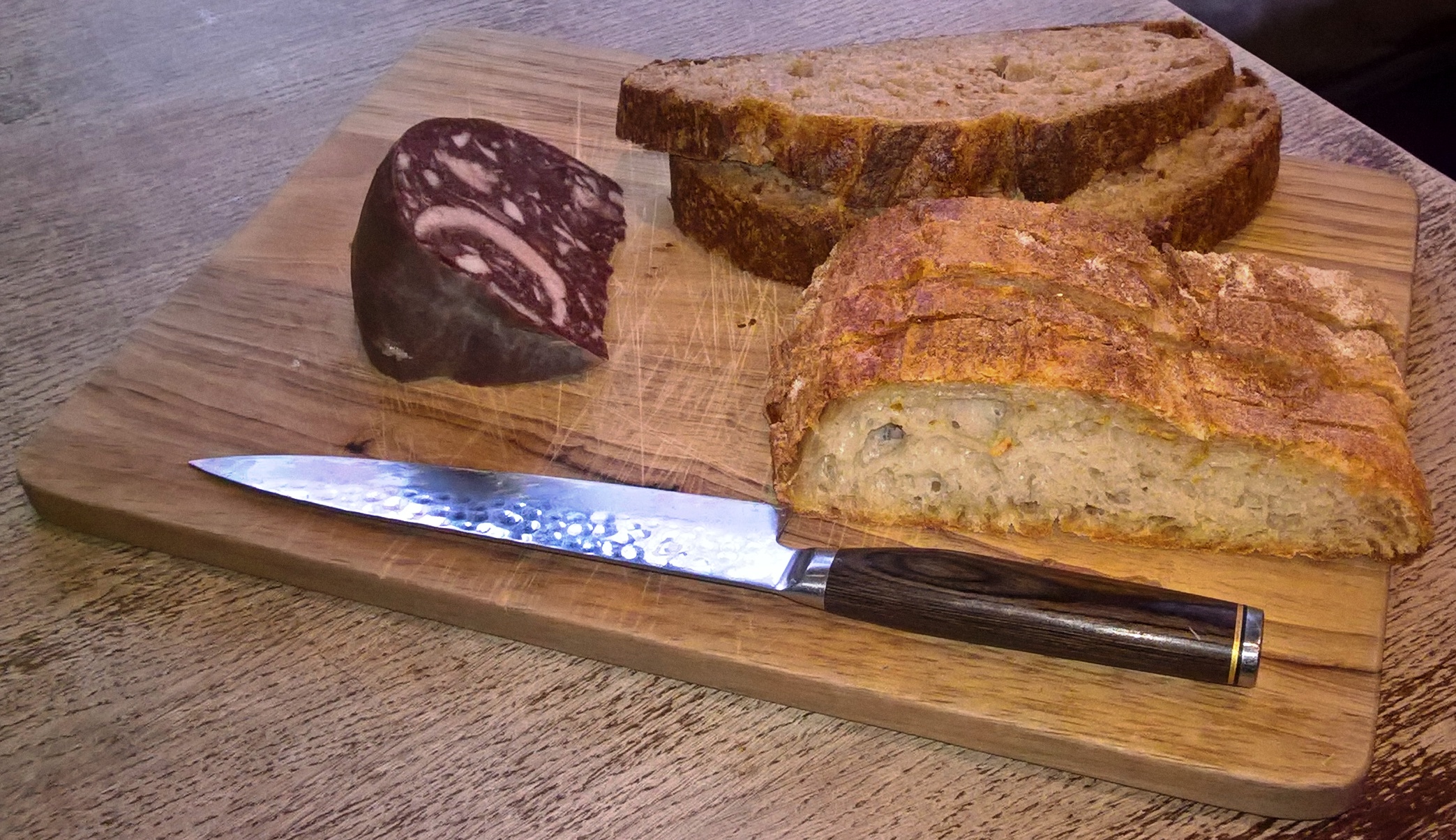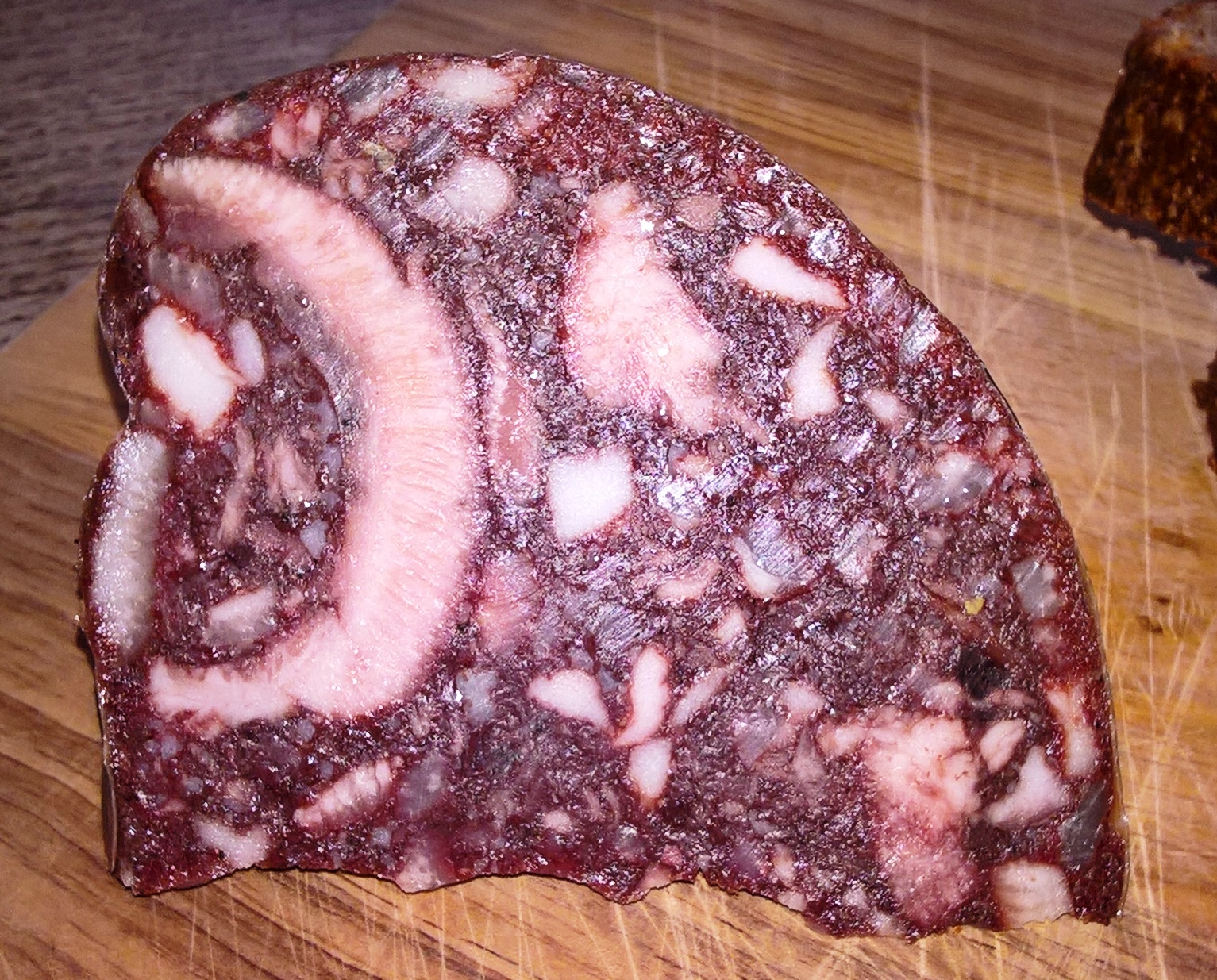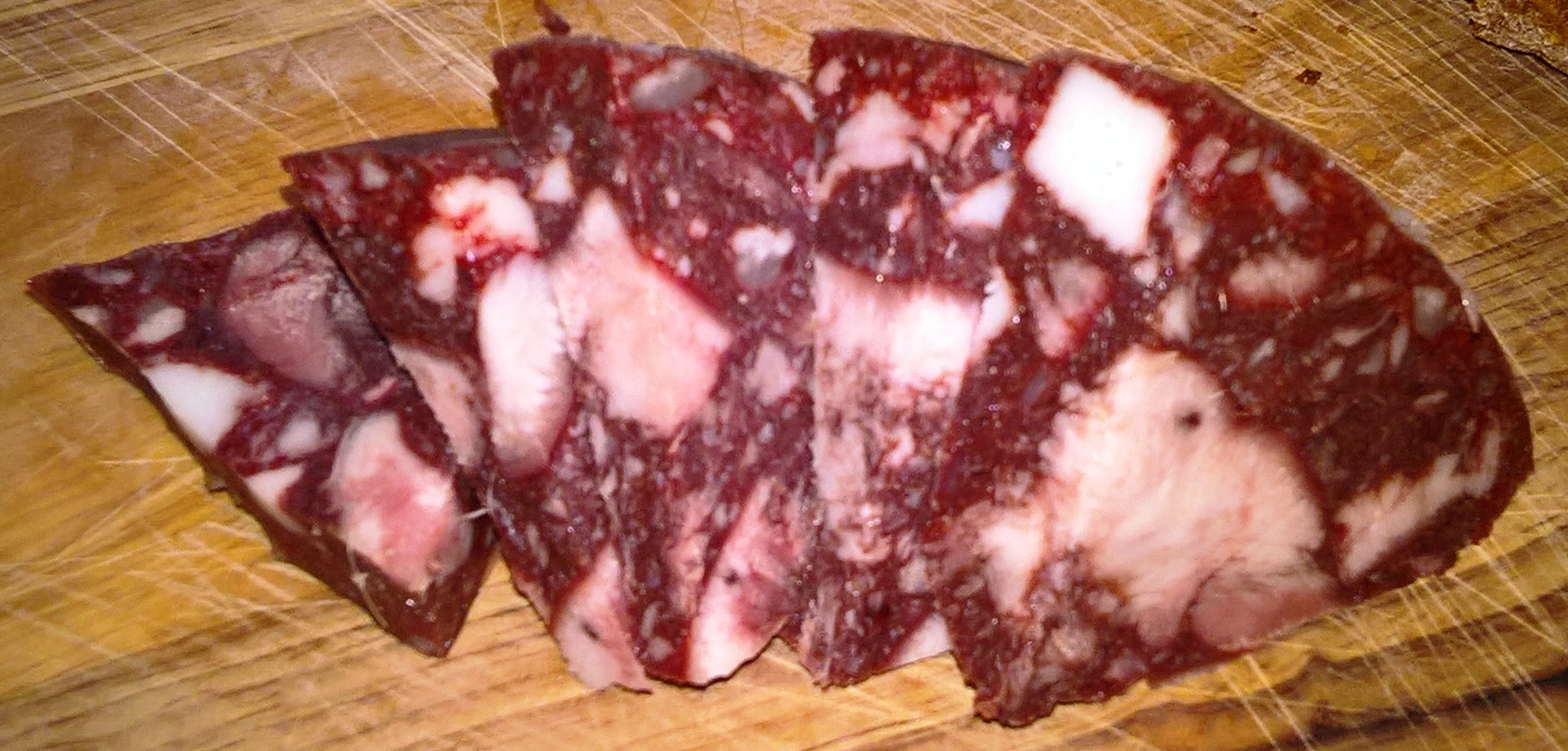 Delicious. That's why I'm a Remainer :-)

11:30pm. Horrific exit poll. With the likely swings to Conservative, Siobhan could even get in here in Stroud. Time for bed. Up to check around 3am.

Friday 13th December


It's shaping up to be a grim day.

02:45
Conservative 63 seats (+10), Labour 60 (-13)

03:09
DISASTER
Conservatives win in Stroud. Siobhan Baillie 31,582, David Drew 27,742. A gap of 3,840. What was the Green vote? 4,954. Aaaaaaaaargh!

Monday 16th December


Time for a response to the result.

First, here are the national voting statistics, all 650 seats returned. Over 15 parties, including the Brexit Party, won no seats and are therefore not listed here.


Party
Seats
Seat
change
Votes
Vote
share
%
Conservative
365
+47
13,966,451
43.6%
Labour
203
-59
10,295,907
32.2%
SNP
48
+13
1,242,380
3.9%
Liberal Democrat
11
-1
3,696,423
11.5%
DUP
8
-2
244,127
0.8%
Sinn Féin
7
0
181,853
0.6%
Plaid Cymru
4
0
153,265
0.5%
SDLP
2
+2
118,737
0.4%
Green
1
0
865,697
2.7%
Alliance
1
+1
134,115
0.4%

Here are the Stroud constituency results.


Candidate
Party
Votes
Vote
share
%
Vote
share
change
Siobhan Baillie
Conservative
31,582
47.9%
David Drew
Labour
27,742
42.1%
-4.9
Molly Scott Cato
Green
4,954
7.5%
+5.3
Desi Latimer
Brexit Party
1,085
1.6%
+1.6
Glenville Gogerly
Libertarian
567
0.9%
+0.9

Brexit had a significant effect. It split the Labour Party. Leave areas turned to the Conservatives, in some cases for the very first time. "Get Brexit Done" was a clear and simple message. Labour were caught on the horns of a dilemma and could only manage the compromise of a new referendum, which angered Labour Brexiteers who felt that their original vote was being ignored.

Jeremy Corbyn didn't go down well. If there was a personality element to the contest, Corbyn came second to Boris, or worse if we include all the party leaders. A decent and caring man intent on righting the wrongs of the country, he pushed an agenda too radical for most, full of echoes of his 1970s roots. Few want to go back to the 3-day week, to the car industries controlled by powerful trade unions. The inability to deal with the anti-semitism question dogged him. Right-wing media control did the rest.

Both of these national trends affected Stroud. The local Labour campaign was magnificent, with cogent literature and significant numbers on the street. I will admit to dreaming (literally) that David Drew might sneak it. But Boris and Brexit propelled Siobhan Baillie past him. Personable but policy-free, she benefitted from the desire for a fresh face in the discredited Westminster bubble. She was unencumbered by having to communicate difficult concepts; "Get Brexit Done" didn't demand much subtlety of an electorate.

You will see from the numbers above that David Drew lost by 3,840 votes. The Greens had 4,954, their share of the vote growing to 7.5%, boosted by the withdrawal of the Liberal Democrats. Many were hoping they would fall in behind Labour, but that wasn't to be. The Greens believe fiercely that they have to "be in it to win it". Their experience is that the hard part is the bottom rung of the electoral ladder, getting chosen for the first time. Thereafter support comes more readily. Caroline Lucas was returned in Brighton Pavilion with a lead of 19,940, up from 14,689 in 2017, 7,967 in 2015 and 1,252 in 2010. The Green mantra was "If not now, when?" Hmmm ... when we have proportional representation, right? Which won't be high on Boris' list.

We are left with a different Stroud today. We have a Conservative MP. We can't call ourselves a Remain town any more. Boris has the majority to do what he likes.