I arrived at Phillips Exeter Academy at the beginning of January 1970 as an ESU (English Speaking Union) exchange student. I flew to New York where there was a shuttle bus up to Exeter. Check out the airline, in a leaflet found among my hoarded travel documents.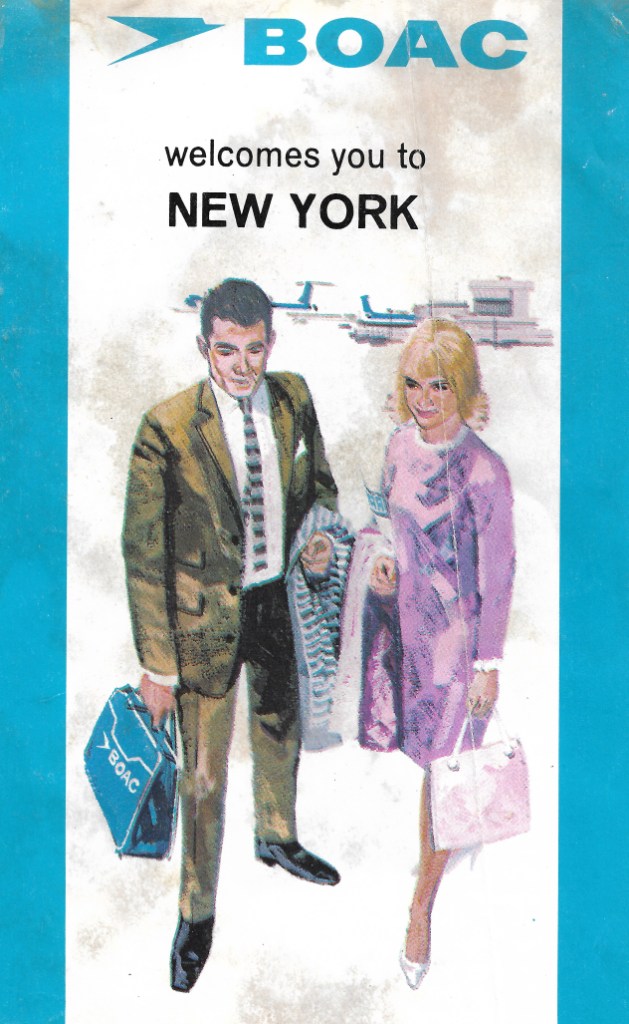 Exeter is a typical and pretty New Hampshire town, just over 50 miles and an hour's drive up from Boston, Massachusetts, on the north-eastern seaboard of the USA, 250 miles north-east of New York.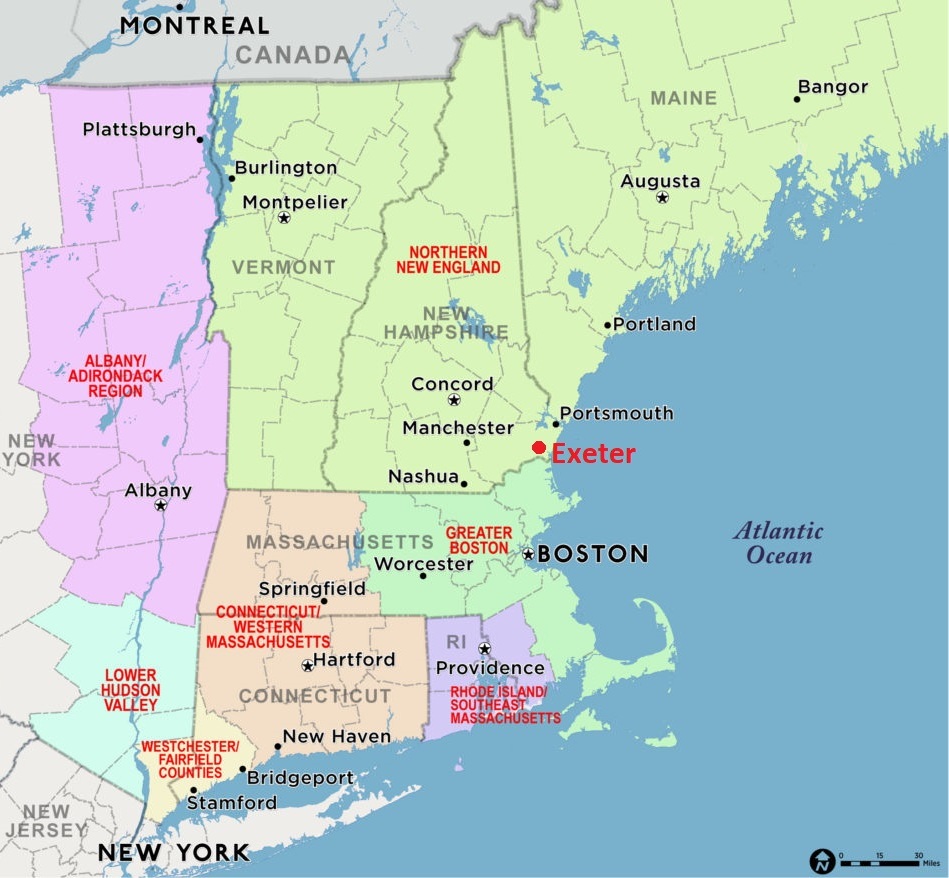 The school dominates the town. The student body numbered 1,095 in 2018, out of a town population of just over 15,000. It was founded in 1781 by Elizabeth and John Phillips so has history and tradition. Here's a picture of the student body circa 1903:




The main campus is grand, with imposing dormitory ("dorm") buildings, accessed by criss-crossing paths through lawns and trees.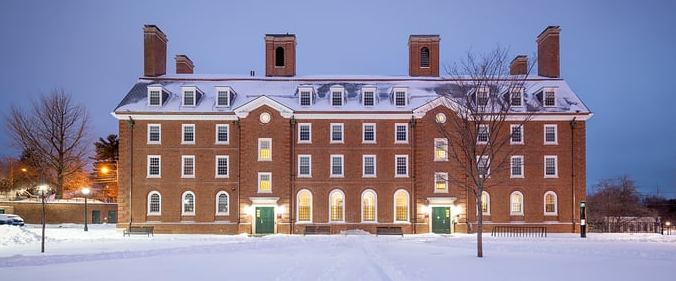 It exudes money, power and privilege, the elite selective "prep" educational system. It's expensive at $47,000 a year today for boarding students – if you pay. In 2018 approximately 50% of students received financial assistance. Since 2008 students whose family income is $75,000 or less have received a free education, including tuition, room and board, travel, a laptop and other miscellaneous expenses.

Each year around a third of Exeter students progress to the Ivy League, MIT, and Stanford. In 2015 33 went to Harvard, 32 to Yale. There's a student-teacher ratio of 5:1. At the heart of teaching is the Harkness Table. Students are seated in a large oval configuration to discuss ideas in an encouraging open-minded environment with only occasional or minimal teacher intervention. Pretty grown-up.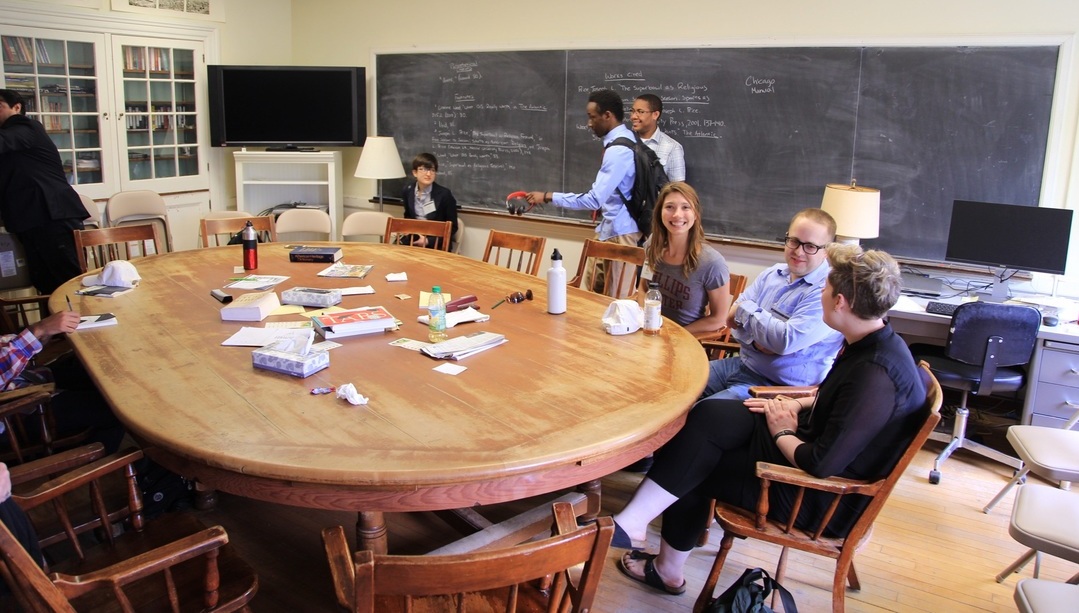 My dorm was Main B, a new block just to the south of the campus. It was pleasantly irregular in design; you had to navigate up-and-down higgledy-piggledy corridors and staircases to get around. I had a very comfortable white-washed brick room with wood-framed furniture upholstered in red cloth. Two tier, with my bed up a steep ladder-staircase in the upper section.

Robert Sargent Shriver III, or Bobby, was my next-door neighbour. He's two years younger than me, born in 1954. His mother was Eunice Kennedy Shriver, sister of JFK, Bobby and Teddy. Arnold Schwarzenegger's ex-wife is his sister Maria Shriver. Bobby went on to Yale University and Law School. He was co-founder with U2 lead singer Bono of DATA (Debt, AIDS, Trade in Africa), a multinational NGO concerned with social equality and justice for Africa through debt relief, trade rules which burden Africa, the African AIDS epidemic. Very Exeter. A key value is "giving back". One of the school mottos is "Non Sibi", not for oneself.

There are other well-known alumni. Gore Vidal, Howard Hawks. Dan Brown of "The Da Vinci Code" was a member of the faculty. More recently there was Ketch Secor, leading light of family favourite Americana string band Old Crow Medicine Show, writer of great songs like "Wagon Wheel" and "I Hear Them All". Mark Zuckerberg went on to Harvard and launched Facebook from his dormitory room there in 2004.

I made some great friends. Harry "Butch" Cocaine was a lovely young man, kind, caring, laughing, easy to be with. He had a dramatic mane of thick long black hair, a heavy black stubble on his chin. Why "Cocaine"? His grandfather came from Greece in the early 20th century. The story goes that the immigration official on Ellis Island looked at the family name Kokkinis, thought it wouldn't do and renamed them Cocaine. He must have had a good laugh with his wife when he went home. Harry has since reclaimed the original name. He now runs the family firm founded in 1924, Table Talk Pies ("America's Favourite Pie"), in Worcester, Massachusetts. Yes, we shared the same home town name. I envy him the truck.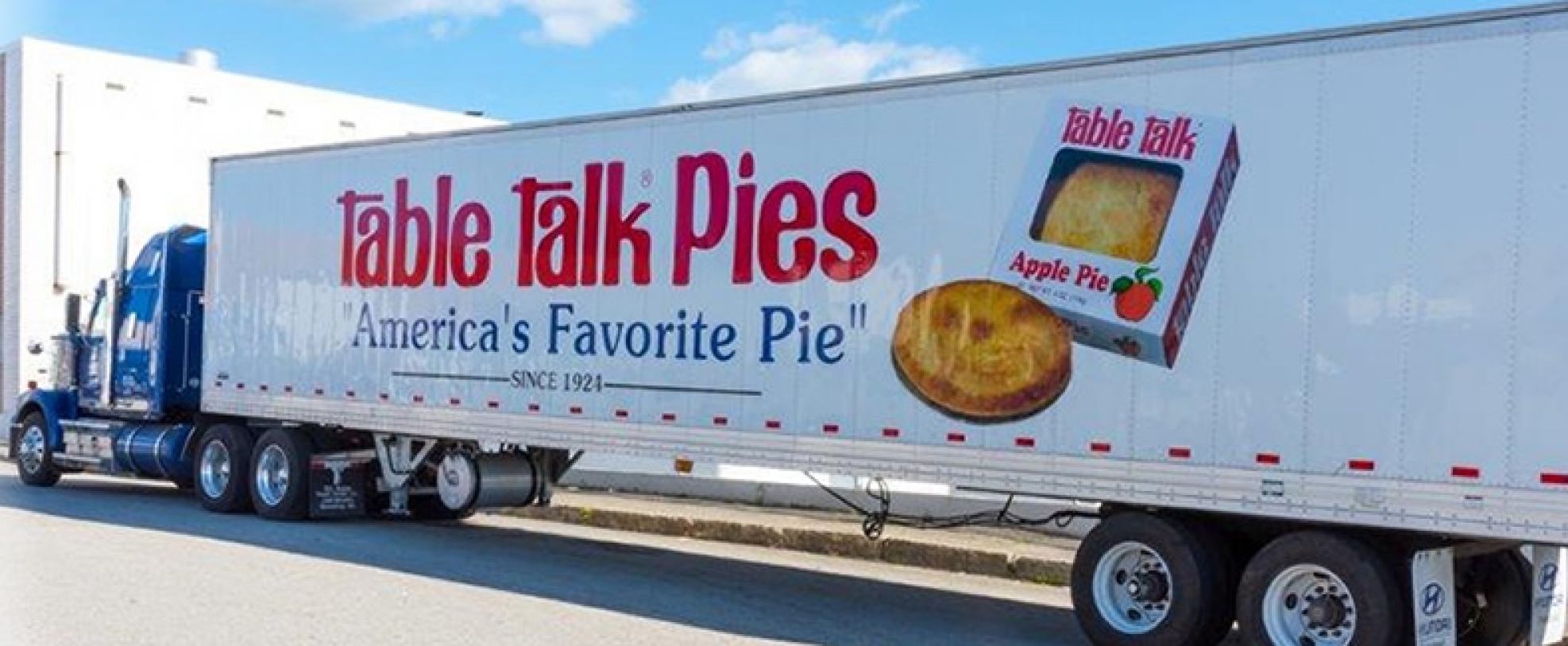 Then there was Don McBride, now called Nate. Another sweet and loving man, radiant. In the Easter break, he took me to his family home in Des Moines, Iowa. The prettiest girls in the mid-West, so they say, and I can vouch for that. We stopped off in Chicago on the way. It was like being dumped in the middle of much that I had read or seen on film. The Loop. Al Capone and the Saint Valentine's Day Massacre. Chicago blues, the Chess record label. We met Don's cousin, an ex-cop turned social worker. He took us round all these sights and into very dangerous areas; we could do this because he was well-known and much-loved.

I've only seen Don/Nate a couple of times since, a great shame now I think about it. The first time was in the summer of 1971 when he was over in Ireland discovering his roots. I met him in a small town in the middle of the country where we spent the evening in a basic, traditional pub. Everybody sat on upright chairs round the walls of the snug bar. A young man sang loudly "Chirpy Chirpy Cheep Cheep" by Middle of the Road, number 1 in the UK singles charts that June. All on his own, the other customers silent.

The second time was April 1985 in New York. I had been giving a paper on Computer-Assisted Language Learning at the TESOL (Teaching English to Speakers of Other Languages) annual convention at the Hyatt.

A bit on New York as an aside. I stayed at the Hyatt during the conference and then had a gap before Sarah was coming out to join me, just pregnant with daughter Ellie. I chose the very cheap option of checking into the New York YMCA. I had been unaware of its reputation, but learnt rapidly. In self-preservation I used the public showers well before 6am. Thankfully I moved soon to the upper West Side apartment of my Exeter friend Ben Fitt. I'd contacted him before coming to New York; we'd agreed I would baby-sit his cat while he and partner Nina went off on holiday. Ben and Nina were there for a couple of days. He kindly gave me rain-check tickets to see a New York Mets baseball game, a great American night out. At that time they played at Shea Stadium in Flushing Meadow, Queens, so I had a classic subway ride out to the game. Dwight Gooden was the bright young star pitcher at the height of his powers. That year he won the National League Cy Young Award and achieved the pitching Triple Crown, compiling a 24–4 record, a league-leading 1.53 ERA and 268 strikeouts. Are you any the wiser?

Sarah arrived and we spent a delightful few days immersed in New York, roaming around the city. As in Chicago, it was like being in the movies, perched between fiction and reality. Yellow cabs. Steam rising from manholes in the street. Fire hydrants. Irish bars. Diners. The Twin Towers. Cocktails at the top of the Chrysler Building. The Staten Island ferry. We had one of those experiences that bridge the real and fictitious. We went to see Madonna's just-released breakthrough film "Desperately Seeking Susan". There's a scene set in Battery Park at the foot of Manhattan where you see those eerie face-like viewing binoculars. We left the cinema and walked to the park. There they were!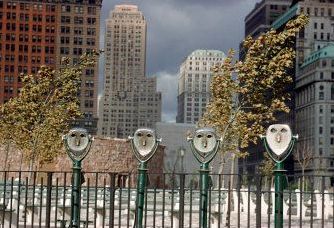 Back to Don. He invited us to his apartment for dinner where we had a charming reunion. Just as kind and delightful as ever. He'd given up booze, saying that it didn't suit him; he was an unhappy drunk. He announced that he had met "the one", a girl named Kari McCabe. They married – sounded like a good Irish union - and have worked together ever since, Nate (now) as an architect, Kari as an interior designer.

I found out in a recent cellar clearance that I'd missed another opportunity to see Don at his first wedding to Judith. I never met her, the event and relationship completely forgotten. Here's the invitation and a postcard from Don. The Rose Garden in Golden Gate Park, San Francisco. It would have been a great trip.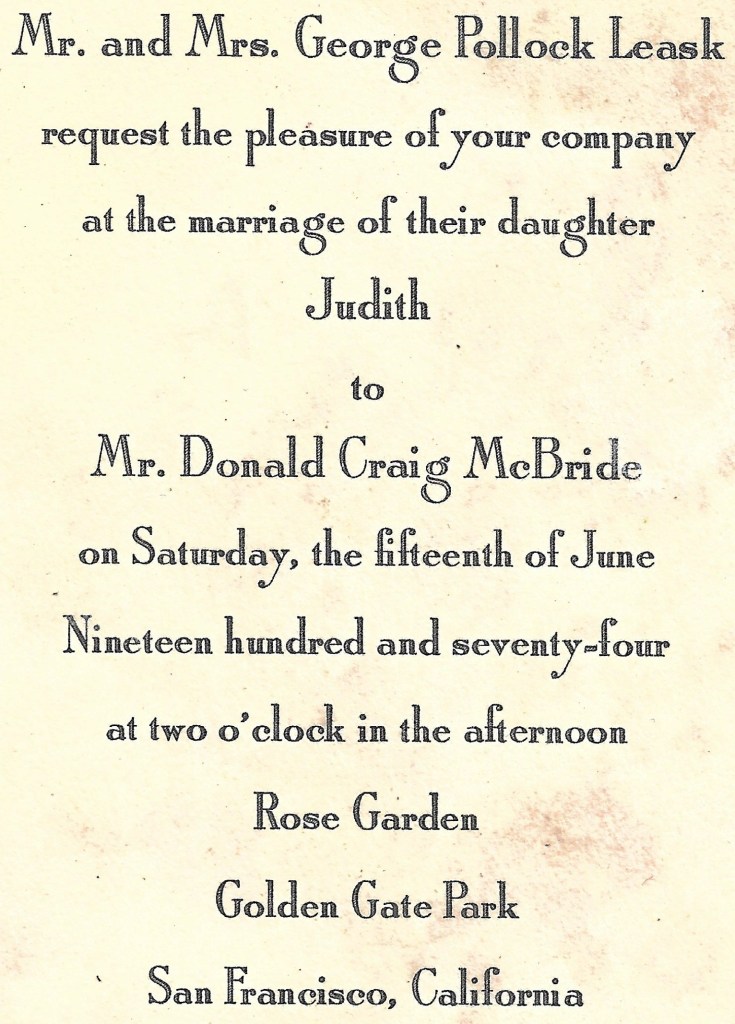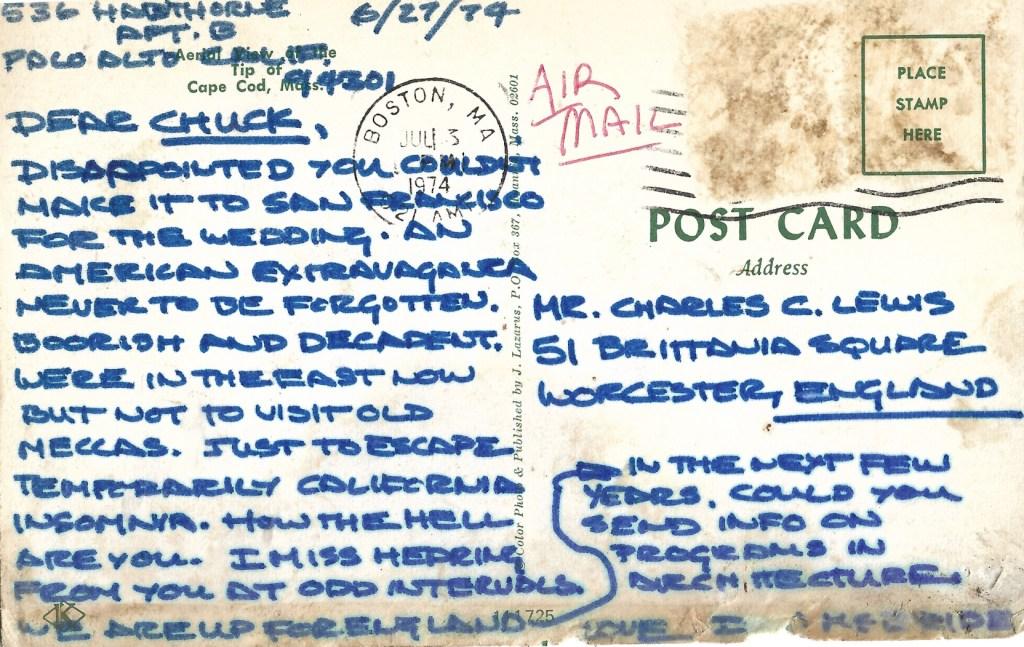 There were some good things to do at Exeter. The school had a great diner where you could have a delicious breakfast or snack. My favourites were French toast or waffles with maple syrup and a root beer float, a fizzy sassafras-based soft drink mixed with vanilla ice-cream. The place was run by Bucky, one of the track coaches. He was a short stocky man with a huge gruff voice. He knew me because I was on the athletics team. He would shout your order when it was ready: "Lewis! French toast! Float! Get it now!"

A group of us went skinny-dipping in the Exeter river in the early mornings, followed by fresh hot donuts in town. My friend Pete Betts was among our number. One earlier weekend in February he had taken me up to Ogunquit, Maine, to meet his friends the Tower family. William "Billy" Tower was a lobster fisherman. There were eleven of us for dinner on the Saturday evening; a bucket of clam chowder for all and two lobsters each. Such a generous welcome. They loved my English accent and demanded that I repeat phrases to demonstrate it.

I was much smitten by his daughter Meg, a startling long-haired blonde. She appeared downstairs on the Sunday morning smooth slender-limbed in the shortest of night-shirts. Sadly she was spoken-for, the home-coming queen of the high school football team, her hand taken by the quarterback.

Billy died in 2013. Meg and her brothers Tim and Court still run the restaurant, Barnacle Billy's in Perkins Cove. It has achieved some celebrity status. Here's a 2006 picture of (top row) Court, Meg and Billy and (bottom row) Tom Brady – quarterback New England Patriots – Bill Clinton and George Bush Senior.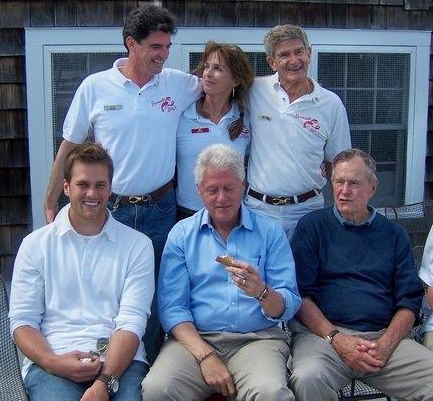 The political background at the time was dominated, certainly among students, by dislike of Richard Nixon, elected in 1968 with a promise to end the Vietnam war. Many of my fellow Exonians were planning ways to beat the draft. There was a groundswell of opposition to the new Cambodian campaign. In November 1969, the My Lai Massacre by American troops of between 347 and 504 civilians in a Vietnamese village had been exposed, leading to increased public dissent. On May 4th 1970 members of the Ohio National Guard opened fire on protesters at Kent State University, killing four students and wounding nine.

Here's John Filo's Pulitzer Prize-winning photograph of Mary Ann Vecchio kneeling over the body of Jeffrey Miller minutes after he was fatally shot.



In common with institutions across the land, we closed Phillips Exeter Academy for four days – days spent in mourning and angry debate.

There were many admirable things about Exeter: the quality of education, the opportunity given to poorer scholarship students, the sense of giving and service. I did however become tired of the reverse side, the smugness. The staff thought they were top-notch, perhaps with justification, and the students, either from wealthy successful families or very bright kids from lesser backgrounds, colluded with faculty in promoting the "We are the best" culture. My uneasiness, possibly even disdain, led to a difficult conclusion.

One of the classes I took was Black American History, taught by an early black member of faculty, a very cool dude indeed. One of our sources was Stanley Elkins' book Slavery: A Problem in American Institutional and Intellectual Life. Published in 1959, for ten years it had been mostly applauded by the black community as an important and positive contribution. In 1970, opinion was probably about to turn, as reflected by Ann Lane in her 1971 compilation The Debate Over Slavery, Stanley Elkins and His Critics.

Elkins' thesis asserted a similarity between American slavery and the Nazi concentration camps, named the "Sambo" theory. He argued that both systems infantilised the victim. A strange dependent and subservient relationship developed between slave and slave-owner, concentration camp inmate and guard. I had been contributing to "The Exonian", the school weekly paper printed without a break since 1878. I decided to write a piece which extended Elkins' idea to the faculty-student mood at Exeter. It was published as "Sambo at Exeter".

All hell broke loose. The Dean demanded that I explain myself at the faculty weekly meeting. He ordered me to visit the school psychiatrist, the magnificently-named Edlef H. Schwab. We spent a morning together and by the end Edlef had agreed with me. He went back to the faculty and declared in my favour. I was not popular during the rest of my stay.

That's a bit of a down note, but there is one sadder story still to tell. I was friendly with the president of our senior class, a young black man called Phil Zabriskie. He was hugely talented, captain of lacrosse, very respected. He gave me my first lessons on how it felt to be black. One hot day he said, "You know, Charlie, we like to get a suntan too." I went hunting on the internet a year ago and found him. Unlike most of the Exeter success stories, it had all gone wrong.

The following comes from the New York Daily News in a report entitled "Preppie Downfall" published on May 16th 2007 with details of Phil's arrest. He had been driving the getaway van of a shop-lifting crew who had just targeted the Pretty Girl boutique in Jamaica, Queens. The security guard Awali Khouroupra, a recent immigrant from Togo in West Africa, grabbed the van's door and was dragged a block as the occupants tried to kick him off. He was left in an extremely critical condition with two skull fractures and bleeding on the brain. Before he collapsed he wrote down the van's licence plate number. Phil was charged with first-degree robbery, assault and leaving the scene of an accident, the charges upgrade-able should the victim's condition worsen. His mother was interviewed: "He's a brilliant kid. He always was. The only bad thing you can say about him is the damn drugs."

That's all I know. I imagine he went to prison. Is he out now? I hope so, and doing OK. I hope also that the security guard recovered.

So, farewell Exeter. I was more than ready to move on.