Released from Exeter in June 1970, I embarked on a big circular tour of the USA and Canada. I had two months before my sister Vicky's wedding back in Worcester (UK) in mid-August.

First stop was Barnstaple on Cape Cod, Massachusetts, to visit my friend Dave Barnett. The family home was a large Tudor-style house in a leafy suburb. They held a party on my first night for neighbours and friends. I was button-holed by a middle-aged woman wearing a bright orange patterned trouser suit augmented by heavy gold bling. After a while I needed a break, retreated to a cosy sitting-room and settled in a deep chintz armchair.

Kurt Vonnegut came into the room.

"Hello, I'm Kurt."
"I know. I'm Charlie."
"I'm not really up for party talk. Mind if I join you?"
"Please, feel free."

We talked for an hour. I had just read Slaughterhouse-Five, published in 1969, an anti-war novel centred on the fire-bombing of Dresden. The novel resonated with people in the current protest mood and went to the top of The New York Times Best Seller list. We discussed that and much else: Nixon, Vietnam, the draft, where to go on my trip.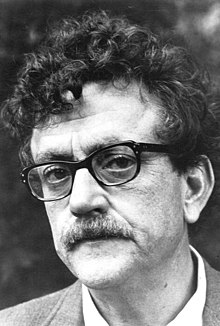 I can't resist quoting my favourite snippet from Slaughterhouse-Five. The central figure Billy the Pilgrim is walking through the destruction of Dresden and comes across a latrine.



It consisted of a one-rail fence with twelve buckets underneath it. The fence was sheltered on three sides by a screen of scrap lumber and flattened tin cans ... Billy looked inside the latrine ... The place was crammed with Americans who had taken their pants down ... An American near Billy wailed that he had excreted everything but his brains. Moments later he said:

"There they go, there they go."


We camped for a night on a Cape Cod beach, in a steep bowl in the dunes behind, Dave, his girlfriend and another girl who appeared to be intended as a match for me. An enchanting setting under the stars, but the girl wasn't my type, which was slightly awkward. On a couple of days they lent me a family car so that I could explore while they were otherwise engaged. A Ford Mustang Mach 1, 6.4 litre V8 under the bonnet. Unaccustomed to such power, I drove it out of the drive into the street, put my foot down and spun it through 360 degrees, like an F1 driver performing a donut.

Next stop was Washington DC. My friend Doug Daly had invited me to stay with his family in Georgetown. His father was Charles "Chuck" Daly, a former aide to JFK; in fact, they shared the same birth date. He served in the Navy during World War II and as a platoon leader in the Marine Corps during the Korean War, earning both a Silver Star and Purple Heart. He retired as a first lieutenant in 1952, having been severely wounded in combat. I heard that he was with Robert Kennedy the night the senator was assassinated, but I've been unable to find corroborating evidence. Anyway, some guy.

The first evening Chuck and his kind, passionate wife Mary held a party for the Kennedy clan. They were all there, including Edward and his wife Joan. The next day Chuck took me to the Senate and walked me into Edward Kennedy's office. "Teddy," he said, "you need to show this boy around." So there I was, only 17, being given a tour by the now head of one of the most famous American political families.

I struck out on my own, taking a Greyhound bus from Washington DC to Los Angeles, a journey of 2,700 miles, 2 days and 14 hours. A slightly odd northern route, going west-north-west to Pittsburgh first. Then west and finally south through Columbus, Indianapolis, Kansas City, Denver, Las Vegas, Barstow and San Bernardino.




Day or night, we stopped only for "comfort breaks" and bus changeovers. About 8 different people occupied the seat next to mine. I kept a journal about them which I can't find. If I come across it, I'll add the detail here.

I arrived in Los Angeles at 11pm on the third day. No place to go, nowhere to stay. I passed the night fitfully in a bus station TV chair, a large heavy-duty plastic semi-recliner with a tiny black-and-white television mounted on a stalk on the left armrest. You dropped dimes or quarters into a coin-slot to see a few minutes of very poor television.

At 6am I was woken by somebody kicking my feet. I opened my eyes and there was a huge black guy, 6' 4" tall. He was wearing - from the bottom up - yellow thigh-length boots, yellow tights, a yellow leather mini-skirt, a yellow skinny-rib top and a yellow broad-brimmed hat. He said, "Hey, would you like to look round the supermarket with me?" I replied no. On reflection now, I rather wish I had said yes.

Where could I go? Now, I thought, Christopher Isherwood and his partner Don Bachardy live in LA, don't they? I was a big fan of the Berlin stories. The film "Cabaret" is a favourite, although still to come in 1970. On a 2011 visit to see son Nikko in Berlin Sarah and I even made a pilgrimage to find where Isherwood had lived at Nollendorfstraße 17 in Schöneberg.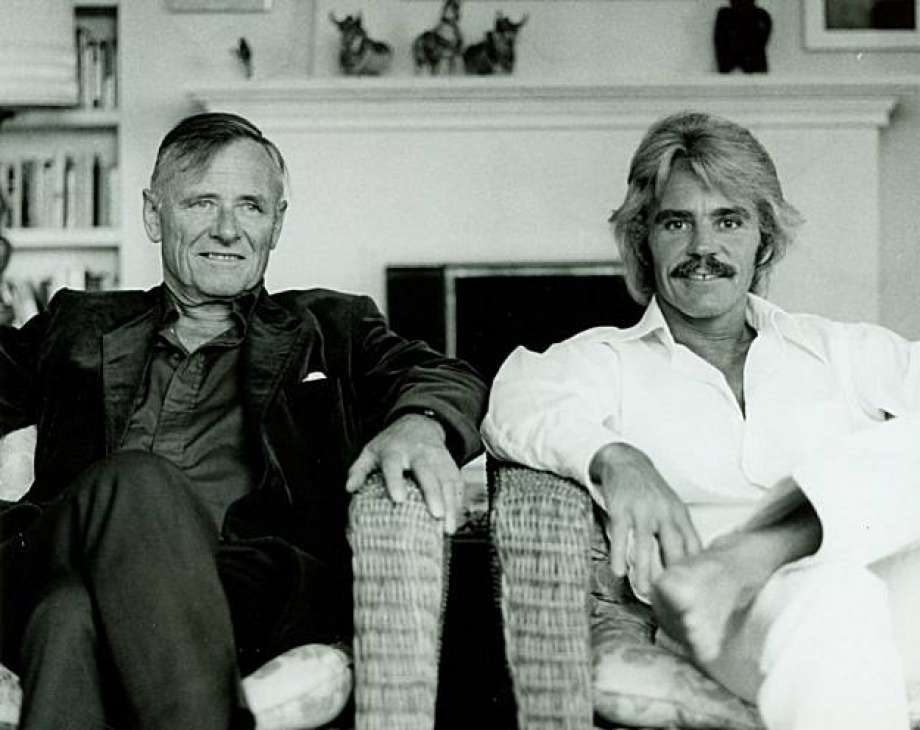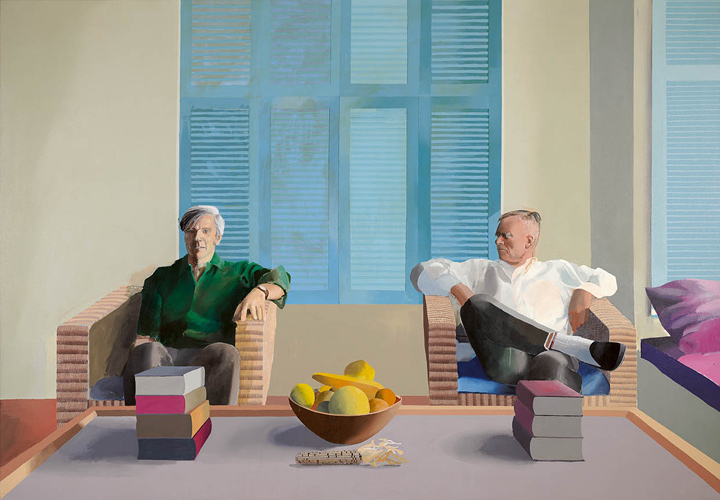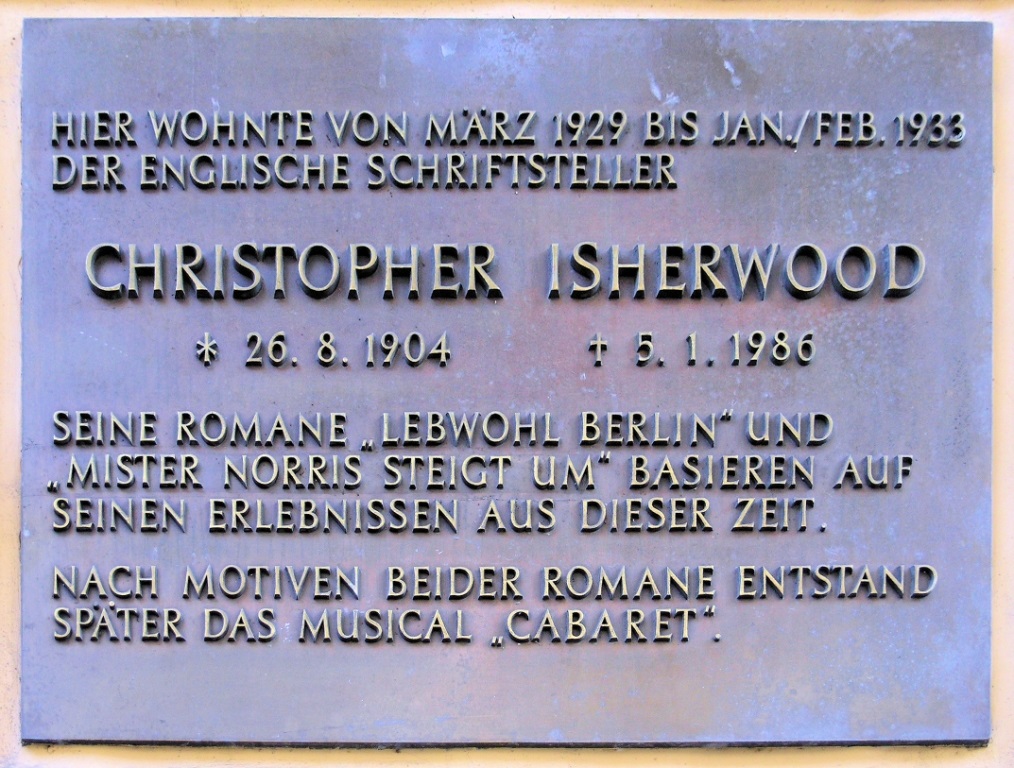 I looked in a public telephone directory and there he was. I called and Don answered. I explained that I was a student from England, an admirer of Mr. Isherwood's work and would really like to talk to him. Don replied that they didn't usually do that sort of thing but, OK, come on over. I made my way to Santa Monica.

The house was set in a ravine above the beach amidst tropical plants and trees, a spreading terracotta-tile roof visible from the road. I went down to the solid wood front door and knocked. Don opened the door, blue jeans and bronzed bare chest. "Charlie, I presume? Come in. I'll take you to Christopher." He led me through the cool pale-blue hall and down a corridor to their bedroom, peach-coloured with a huge window overlooking the ocean. Don settled me in a comfortable chair and went into the bathroom. He emerged with Isherwood who sat down in another chair facing mine, still wearing his also-peach bathrobe.

He gave me two hours. We talked, of course, about his work. The Berlin stories reflect other people. Although the narration is in the first person, there's very little of Isherwood himself. He's present but not the focus. This approach became known as "I am a camera". A play of that name by John Van Druten was performed on Broadway in 1951, adapted from Goodbye to Berlin. The catchphrase is taken from the first page of the novel: "I am a camera with its shutter open, quite passive, recording, not thinking."

There's an underlying sadness in the stories. I asked Isherwood if he were happy. He replied, "Yes, I am. It's just the way I write."

He had deliberately failed his tripos, the examinations that qualify an undergraduate for a bachelor's degree, at Corpus Christi College, Cambridge, in 1925. He said it was the only way he could escape the cloistered academic career for which he had been earmarked as a talented scholarship entrant; he wanted to live an entirely different kind of life. His arrival in Berlin in 1929 was a great release from the rarefied atmosphere of his affluent family background, Repton School and Cambridge. He shed a lot of baggage. He was living in Germany, speaking German.

He came to the USA in 1939 with W. H. Auden. Evelyn Waugh wrote a caricature of them both in his novel Put Out More Flags (1942) as "two despicable poets, Parsnip and Pimpernel" who flee to America to avoid the Second World War. He met Don on the beach at Santa Monica on Valentine's Day 1953.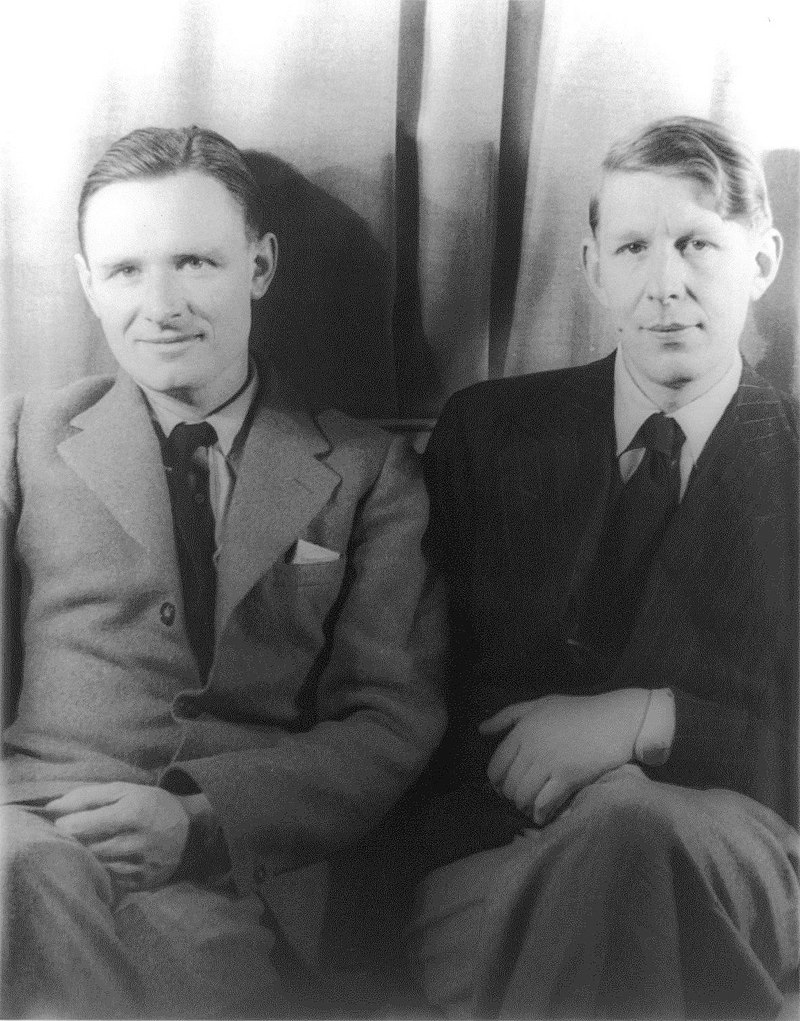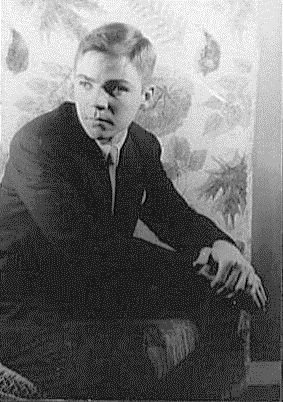 He recommended things to do and places to visit, including the curious suggestion of going to Watts, the neighbourhood where there had been riots in 1965. I expressed some doubt. "You'd be OK," he said, "dressed as you are." Which was blue jeans and black T-shirt.

I left around lunchtime after expressing heart-felt gratitude. Where to go now? I must have remembered other contacts because I stayed that night in Bel Air with a very wealthy and slightly dysfunctional family. I shouldn't gripe because they were generous and trusting. I was able to wash in great luxury and launder my clothes. They gave me many half-used books of tickets to Disneyland in Anaheim, so I had a day there taking all the rides. They lent me a car, just like the Barnetts had in Barnstaple, this time a cream Lincoln Continental. I thought it best not to risk driving into Watts, but I cruised round much of Los Angeles, with one charming and comic encounter in West Hollywood. I parked up and walked along Sunset Strip. A flamboyant man in his thirties, in tie-dye T-shirt and turquoise flares, was stopping all passers-by and insisting that they accept one of his gifts. He called them elephant seeds. Each had a white miniature fake-ivory elephant plugged into the top of a small red plastic egg. When he pulled the elephant out and inverted the egg above your hand, another even tinier elephant dropped out, the so-called seed.

It was time to get on the road in earnest. I decided to hitch-hike up the coast to Big Sur. On the way I met the most glorious couple, Ray and Michelle. Both tanned and sun-kissed blonde, Ray with rock-star good looks and moustache, Michelle petite and buxom. We travelled together for a day, hitching as a threesome. Difficult, but we managed, talking and laughing all the while. I had never made such immediate and harmonious contact before. At Big Sur, we parted. We exchanged contact details, but I never saw them again. They did, however, turn up at my parents' house in Worcester and stayed there even in my absence. My parents adored them.

Big Sur is a rugged section of the central coast of California between Carmel Highlands and San Simeon, where the Santa Lucia Mountains rise abruptly from the Pacific Ocean.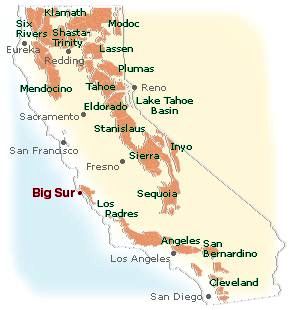 It's very popular today to the point of overcrowding. Stunning views, beaches, redwood forests, camping and hiking. It was much quieter in 1970.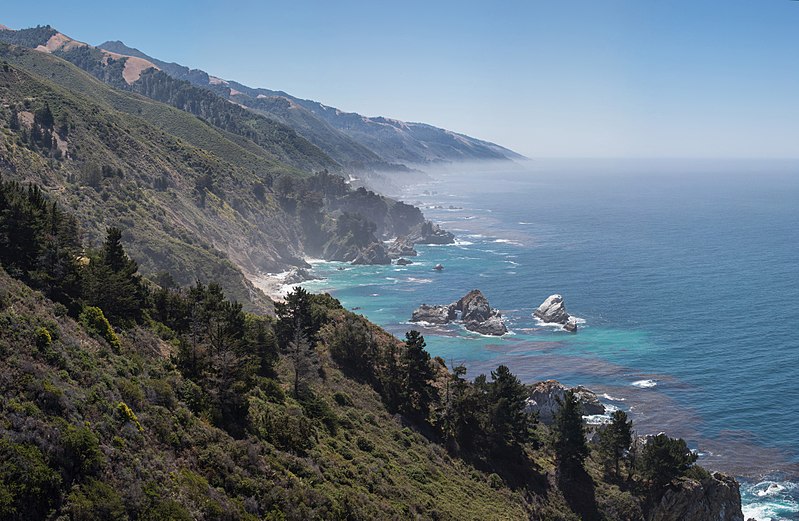 I met a group of other travellers. We climbed up into the woods and camped, lighting a fire in a clearing under the stars. There was a curious man called Eric. Unlike the others in our number, all long hair and rough dress, Eric was immaculate. Short trimmed hair, clean-shaven, wearing a neat hunting jacket, a huge knife attached to his belt.

In the morning I hitched north with him. We made it all the way to Berkeley and stayed with his cousin and wife, Bob and Ann. After one night, Eric left and I remained for a few days. My hosts, as many others had been, were generous to a fault. They took me down to see BB King at the San Jose Civic Auditorium, my first real blues concert. At that time, prior to BB's adoption world-wide, there were very few white people in the audience. The front few rows seemed to hold only black women, dancing, singing along and whooping with delight. "Come on BB, give it to me!"

Bob and Ann let me come and go as I pleased. It was just after the "Summer of Love", the peak days of Haight-Ashbury. I went into the neighbourhood and soaked up the vibe, psychedelia stores, coffee bars, bead and tie-dye shops. Jefferson Airplane, the Grateful Dead and Janis Joplin all lived nearby. One evening I went to the Fillmore West, run by concert promoter Bill Graham from 1968 to 1971, to see Quicksilver Messenger Service.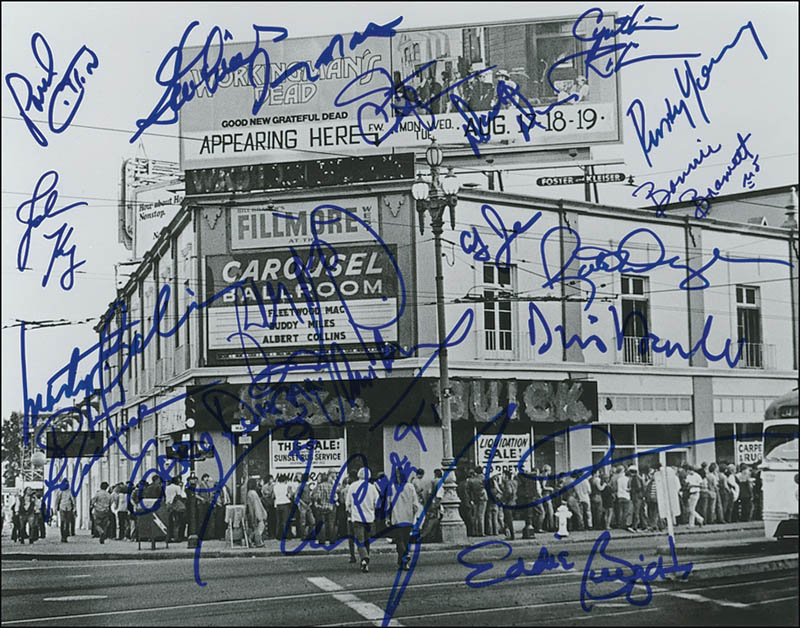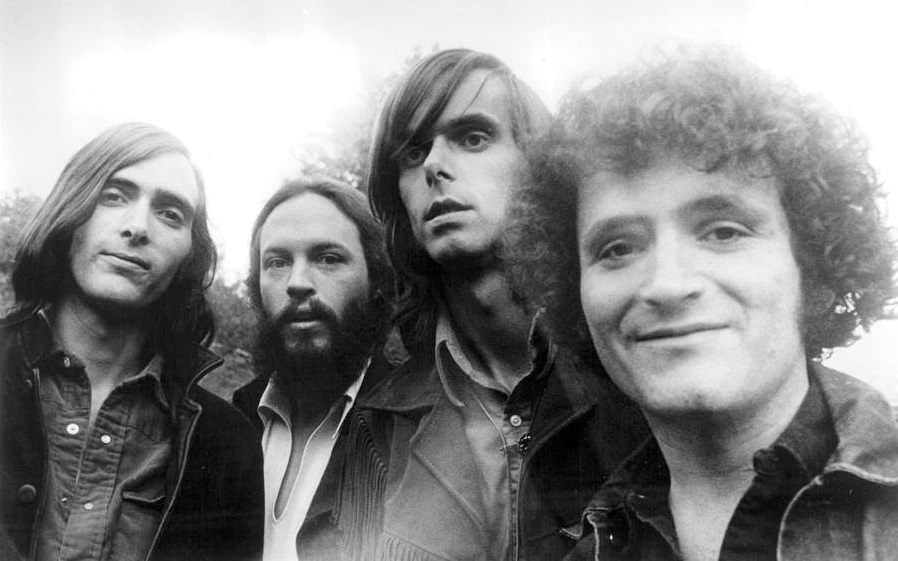 I took my place close to the front of the stage; there was no seating so we sat on the floor. A little guy settled next to me, opened a tin full of joints and passed them out to all around him.

Bob and I had a scary experience one morning. He had a heart condition which his doctor said would be improved by mild jogging exercise. I offered to join him on a run. We set off by car for a local beauty spot. On the down ramp to a highway, he suddenly cried, "I can't stop, Charlie, the brakes don't work, I can't steer. Get ready to jump." I opened my door. Then the car slowed to a halt of its own accord. When I got out, I looked back and saw that the right rear axle had worked itself loose from the differential, sticking out about a yard. This had caused both the loss of control and the fortunate braking. If I had jumped out, the protruding wheel would have run me over.

Next stop was Sacramento, home of my Exeter friend Tom Taylor. A blue VW van, decorated with orange and yellow flowers, stopped for me. I got in through the side door. The air inside was thick with marijuana smoke. There were three other passengers in a state of torpor. They grinned at me weakly, saying nothing. Some miles further on a siren sounded and a Highway Patrol car pulled us over. The patrolman came to the driver's window and informed him that he had been doing only 10 miles an hour on the highway. The engine revs had sounded OK to me, as if we were making good speed, but then I realised that the van must never have got out of first gear. The patrolman invited the driver to his car, which was parked in front. Unobserved, I quietly gathered my rucksack, slipped out and walked back down the road.

Tom was a very cool young man. He had long thick blonde hair cascading over his shoulders and was clad in classic western garb: white T-shirt under blue denim jacket and jeans, decorated brown cowboy boots. His father was a state wine judge. Tom poured me several glasses of a good red vintage. Unused to alcohol, particularly wine, they went to my head. I demanded to examine the extensive cellar. To avoid me touching (and dropping) the bottles, Tom took each one out and showed me the label, then carefully returned it to the rack. In so doing he averted disaster. It would have been a poor way to thank my hosts, wrecking their precious collection.

It was time to up the pace of my journey; time was running out until Vicky's wedding. I hitched up to Vancouver to stay with Liz Vickers, elder sister of my ex-girlfriend Helen. Vancouver is a wonderfully situated coastal sea port, ocean and islands to the west, mountains and skiing to the east. Liz worked in a restaurant in the original settlement of Gastown, in 1970 a fledgling bar and dining area, very attractive and laid-back. I returned in the late 1990s; it had sadly become a rather seedy tourist location.

I hitched east through the Rockies to Calgary. There I found a very cheap and basic hostel. I met an Englishman, Graeme Harwood, already a student at St. John's College, Cambridge, where I was due to go in October. We became close friends over the next few years.

The dorm in which we slept was barn-like. Rows of iron-framed beds. The old boy next to me took off his tin leg at bedtime and left it standing right by my nose. He farted all night.

Next morning I got a lift out of Calgary well into the Alberta flatlands.




I sat outside a gas station on my rucksack in the burning sun. There's wasn't anywhere near the amount of traffic you can see in the picture above. I waited an hour. Two hours. An old VW Beetle clattered into the gas station. Re-fuelling complete, it went on its way. After 100 yards it stopped, then reversed back to me. The young couple owners offered a lift. "Toronto OK?" You bet. A ride of over 2,000 miles.

They were on a big trip from California; they'd not been out of the state before. There was very little room in the car, the rear seat piled high with clothes and bedding. We rotated places, two in the front seats, one lying across the luggage in the back.

Stopping only for fuel, food and toilet breaks. Out of Alberta and through Saskatchewan. The landscape was flat as darkness fell. Into Manitoba and past Winnipeg, huge grain silos looming in the night. It was still flat both when dawn broke and dusk approached on the second day. The terrain only began to break up as we reached Thunder Bay in Ontario the following morning. We skirted the northern shores of Lake Superior and Georgian Bay before arriving in Toronto at the end of the third day.

Time was now really running out. I didn't stop in Toronto and went right on to Montreal, where I stayed only a night with Exeter Chinese-American friend Bob Ho. A day's bus journey to New York where I visited Jon Arlow, the leading thespian of our senior year; we had acted together in a couple of school productions. Jon was gay, the son of a New York Jewish psychiatrist, a family dynamic that Woody Allen might have dreamt up. He later died at the height of the AIDS epidemic. We had one evening at an off-Broadway show and then I flew to Heathrow, hitched to Worcester and walked into my parents' house four days before the wedding.

I received a frosty welcome from my father. I'd gone missing in the USA and caused some anguish. He was in the dining room kneeling at the fireplace, clearing the stove, strange in mid-August. Half-turning, he said, "Your mother's in the kitchen." He didn't speak to me again until the wedding reception.

I had been drawn deep into the spirit of America. The summer had been a huge adventure, travelling on my own at quite a tender age. The friendships I'd made seemed profound, big connections. The Americans had treated me with charm, warmth and generosity. There was something iconic about the land- and town-scapes I'd seen: the marine promise of Maine, the political stateliness of Washington DC, the Philip Marlowe-ness of LA, the coastal grandeur of Big Sur, the hippie-dom of Haight-Ashbury, the big-sky vastness of the Canadian prairies. Blues and the West Coast bands as the soundtrack to my journey. Days of sunshine out on the road in the open air. Freedom.